General Motors (GM) recalled 588,000 more vehicles last week due to a decade-old ignition switch problem, as questions arose about why the giant automaker took so long to respond to the issue.
Last week's recall follows on the heels of 780,000-vehicle recall three weeks earlier to fix ignition switch malfunctions that shut down engines, cut power assist to brakes and steering, and disabled airbags. Problems caused by the ignition switches are now believed to have resulted in 31 crashes and 13 front-seat deaths. The National Highway Traffic Safety Administration (NHTSA) may investigate whether GM moved quickly enough to address the problem.
"The chronology shows that the process employed to examine this phenomenon was not as robust as it should have been," said GM North American president Alan Batey, in a press release issued by the automaker last week.
The problem, which has been traced as far back as the 2003 model year, involved the "torque performance" of the ignition switch. Because the switch mechanism was out of specification, it could too easily pop out of its "run" position and move to "accessory" or "off" positions, thereby shutting off the ignition and disabling the airbags. The problem could be initiated by something as simple as a heavy keychain or the sudden impact of the vehicle hitting a pothole.
Click on the car below to see the GM automobiles affected by the ignition switch problem.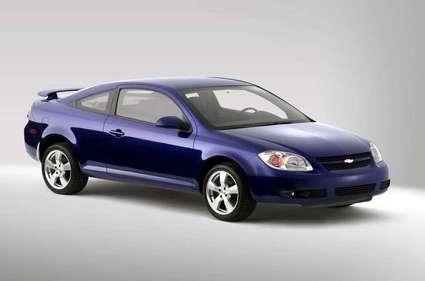 Last week's recall targeted 588,000 GM vehicles, including 2003-2007 Saturn Ions, 2006-2007 Chevrolet HHRs, and 2006-2007 Pontiac Solstices and Saturn Sky models. An earlier recall on February 13 named 780,000 Chevrolet Cobalts, Pontiac G5s, and Pontiac Pursuits from the years 2005-2007.
Federal regulations call for manufacturers to inform NHTSA of safety problems within five business days, once they are aware of the cause. Automakers that don't comply face civil fines with maximum penalties of up to $35 million.
GM says it became aware of issues on its vehicles as early as 2004, when it received a field report of Cobalt vehicles losing power after a key moved out of the "run" position, according to documents filed with NHTSA. More problems in Cobalts, Chevrolet HHRs, Pontiac Pursuits, Pontiac Solstices, and Saturn Ions surfaced in 2005. Engineers suspected "low key cylinder torque effort" as a cause and devised a fix –- a key insert that would prevent the driver's key ring from moving around and possibly shutting down the engine.
GM's documentation does not offer an explanation, however, as to how an out-of-spec switch ended up in the ignition in the first place.
Any pending investigations are likely to center on why it took so long for GM to initiate a recall. GM documentation implies its internal investigations were thrown off track in 2006 and 2007 after the switch's supplier, Delco Mechatronics, changed the part's design in November 2006. The addition of a new detent and plunger improved the switch's torque performance, causing ignition-related complaints to dry up. Although a GM engineer signed off on a release for the new part, the automaker has claimed it was unaware of any torque performance changes because the new part still employed an old part number. As a result, GM found it difficult to make a link between the earlier ignition switch problems and ongoing fatal non-deployment of airbags, which it studied from 2007-2013. A GM engineer finally linked the two phenomena in 2013, after finding that the design of its existing ignition switches "differed substantially" from the 2005 Cobalt's original equipment. That discovery was made nearly nine years after GM began investigating the switch problem.
Engineering experts said the use of an old part number shouldn't have been an issue in GM's investigations. "Whether they change the part number or not is irrelevant," Steven Eppinger, professor of engineering systems at Massachusetts Institute of Technology, told Design News. "Companies change parts all the time. What they're supposed to do is test the hell out of the new part."
Further investigations on the matter may serve as a case study on how big manufacturers handle the smallest details of design. "This is about qualification and testing and managing engineering change," Eppinger told us. "Every company has a problem with engineering change."
Related posts: