A tiny new MEMS-based reed switch may enable engineers to reduce the size of the electronic circuitry in devices ranging from ingestible endoscopes and hearing aids to insulin delivery systems and brake fluid monitors.
The new switch, said to be about 20 times smaller than today's conventional reed switches, is specifically directed at applications where electronic packaging is extremely tight. "Some devices, such as in-the-canal hearing aids, have shrunk to a size where you can no longer use a mechanical switch for control," Stephen Day, vice president of technology for Coto Technology Inc., told Design News at the recent Medical Design & Manufacturing Show in Anaheim, Calif. "You need some other means of controlling them."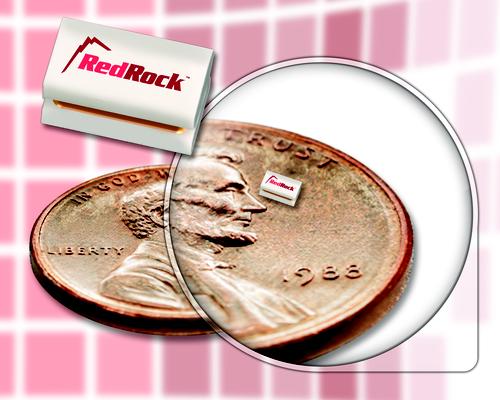 Known as the RedRock MEMS (microelectromechanical systems) switch, the new product could serve in such applications because it measures just 1 mm x 1 mm square. In contrast, conventional reed switches typically measure at least 4 mm to 5 mm long, due to technical limitations in the manufacturing process, Day told us.
Coto's switches are smaller because the company uses a "high-aspect ratio microfabrication" technique, which is a derivative of conventional semiconductor manufacturing processes. About 10,000 of the switches are made on a ceramic substrate wafer. "We went back to the drawing board and said, 'If we can't make a smaller reed switch with a traditional method, could we do it with a semiconductor factory type of technique?' " Day said.
Like a traditional reed switch, RedRock is operated by the application of a magnetic field. Two tiny blocks serve as magnetic field accumulators. When a field is presented, a connecting blade between the two blocks closes a 5-µm gap, allowing current to travel across them.
The technology may be best suited to a device known as an ingestible endoscope, which, after being swallowed, uses video cameras to take pictures of a person's gastrointestinal tract. Today, such pill-shaped endoscopes measure an unappetizing one-inch long by almost half an inch wide, making them difficult to swallow. A MEMS-based reed switch would significantly reduce the size of such devices, Day said.
The drawback of the RedRock technology is its cost. In small volumes, the switches now cost about $8 each, compared to about $0.30 for a conventional reed switch. Coto executives, however, expect the cost to drop quickly. In larger volumes (quantities of about 100,000), the cost would be about $2 to $3, ultimately falling to less than a dollar apiece in the next couple of years.
Other applications for the technology include in-the-canal hearing aids, which are too small to use a conventional reed switch, as well as insulin delivery control systems. Coto is also talking with a European automaker about using the technology in a brake fluid monitoring system.
"If there isn't a major space limitation, we would still recommend using a conventional reed switch," Day told us. "But if there's a space limitation and you can justify the higher cost, this technology makes sense."
Related posts: