Ford Motor Co. will give new meaning to the term "muscle car" in 2014 by rolling out a Mustang that features a small engine with big power numbers.
The 2015 Mustang will offer a choice of three engines, but the headliner will be the new 2.3-liter inline four-cylinder model, which produces 305 HP and 300 lb-ft of torque at the low end. Key to the performance is a long menu of high-tech features, including direct injection, dual-scroll turbocharger, and an aluminum block and head.
"Yes, it will be part of the solution for fuel efficiency mandates going forward," Steve Ling, marketing manager for Ford Motor Co., told Design News. "But at the end of the day, it's a Mustang, so it has to be fun to drive. It has to be peppy."
Click on the 2015 Mustang below to start the slideshow.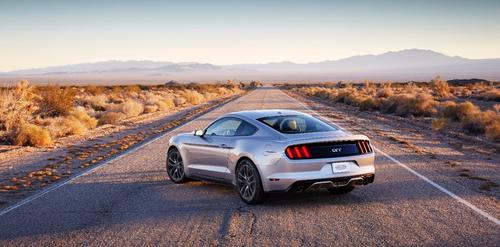 Indeed, the new engine, known as the 2.3-liter EcoBoost, has such good power numbers that it actually eclipses Mustang's existing 3.7-liter V-6. Although the new figures aren't yet definite, the 2.3-liter EcoBoost is said to produce 300 lb-ft of torque at about 2,500 rpm, while the existing V-6 comes in at 270 lb-ft at 4,000 rpm. How the smaller displacement will affect fuel efficiency isn't yet known, because Ford hasn't published those numbers.
The 2.3-liter EcoBoost's aluminum block will help minimize weight at the vehicle's front end, as well. "It's going to make the front end very tight and nimble," Ling told us. "So it will not only handle better at the track. It will handle better in daily driving."
Handling will also be enhanced with a new suspension design. The front end employs a new subframe and strut system, enabling the use of bigger brakes that provide shorter stopping distances. The rear end incorporates an independent suspension with springs, dampers, and bushings all tuned for high performance. "When you brake, the front end of the car doesn't dip down, and when you accelerate it doesn't lift up," Ling said.
Additional new technology for the new model includes light-emitting diodes (LEDs) for the Mustang's signature three-bar tail lamps and three-bar lights up front. LEDs will also enable customers to tailor the interior of the car, giving a choice of to 125 colors for the halo around the speedometer and tachometer, as well as in footwells, and even on the door sills.
The 2015 model, which marks the 50th anniversary of the vehicle, will feature a badge on the instrument panel that includes the words, "Mustang -- Since 1964."
Related posts: