Amazon.com's proposed drone-based package delivery scheme is achievable, but it could face significant technical hurdles before reaching the marketplace.
"It's possible, but it's more than five years away," John Nolfi, who teaches senior design courses in mechanical engineering at Purdue University, told Design News this week. "There are still problems that need to be solved. There are obstacle avoidance problems, navigation problems, and power density problems. And there will have to be fail-safe modes."
The futuristic idea, proposed on CBS's 60 Minutes earlier this week, calls on unmanned aerial vehicles, called "octocopters," to deliver packages weighing less than five pounds within 30 minutes. Known as PrimeAir, the drone delivery service would work for customers living within a 10-mile radius of an Amazon distribution center.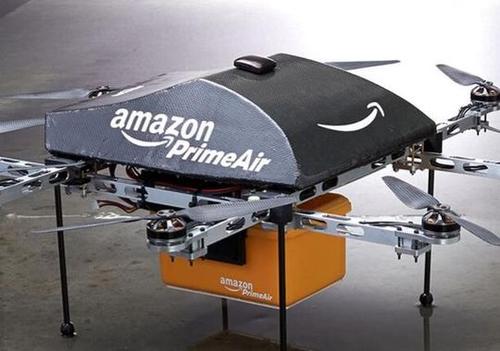 Amazon CEO Jeff Bezos said that the concept could be working within four to five years. "It will work, and it will happen, and it's gonna be a lot of fun," Bezos told Charlie Rose of 60 Minutes.
Purdue's Nolfi, who recently guided students through a drone-based senior capstone project, said the idea faces a host of potential problems, even beyond the company's acknowledged issues involving Federal Aviation Administration (FAA) air space rules. The most formidable of those may be obstacle avoidance, he told us.
"When you get down below treetop levels, there are so many obstacles that you would almost have to have a person in the loop," Nolfi said. "You have to avoid trees, power lines, cars, trucks, dogs, and people. If you crash and hit someone, it would be on the news immediately." Nolfi added that early versions of the technology may only be semi-autonomous, with humans doing some of more complex chores, such as take-off and landing.
Because GPS (global positioning system) signals can often be lost behind buildings in crowded locales, Nolfi believes the octocopters will also need to employ dead reckoning navigation, along with GPS. Moreover, software and hardware components will need to grow more robust, a process which is likely to involve a great deal of trial and error.
Drone design has been popularized in recent years, especially since the military opened up access to GPS signals more than a decade ago. Lower sensor costs and better lithium-ion batteries have also made unmanned aerial vehicles (UAVs) a viable alternative in many new applications. Many universities -- including Arizona State, Kansas State, Nevada-Las Vegas, Virginia Tech, and Embry-Riddle -- have launched degree programs in UAV design. One of Nolfi's classes at Purdue recently built a drone that can track the flight of a ball at a football game, giving television viewers a bird's-eye view of the ball's flight.
The proliferation of drone technology could make the design task more difficult for Amazon, Nolfi said. If competitors, such as United Parcel Service (UPS) and Federal Express (FedEx), adopt similar schemes, Amazon's drones would have to be on the alert for them. "They'll have to avoid other drones and they'll also have to deal with bird strikes, just as airplanes do," Nolfi told us. "This is going to get quite complex."
Related posts: