What has four wheels, 800 gallons of salt water, and a talking sponge? That would be the 2014 SpongeBob Highlander: Tanked Edition.
Toyota's sport utility vehicle, showcased at the recent SEMA Show in Las Vegas, may be one of the strangest SUVs ever built, or one of the most unusual aquariums, depending on your perspective. A team collaboration involving Toyota, Nickelodeon, and Animal Planet's show Tanked, it holds 32 species of happy saltwater fish behind the front seats.
"If you sit in the front seats, the fish are right behind you," Wayde King, star of Tanked and creator of the aquarium, told Design News. "From there, you can see all the way out the back door. Or you can stand behind it and see through the front windshield. It has 360 degrees of viewing."
Click on the Tanked Edition Highlander below to get a closer look at the unusual vehicle.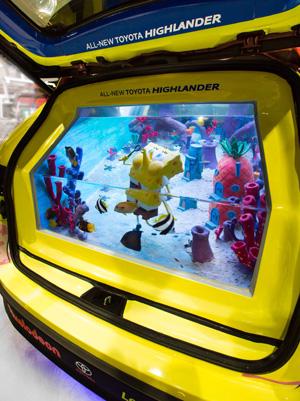 King and a team of five technicians from Acrylic Tank Manufacturing spent a month and a half turning the Highlander into a fish home. They first asked Toyota to remove the engine and transmission, then tore out the entire interior, including seats, flooring, rear airbags, air conditioning ducting, and electrical wiring. After stripping the seating area down to its bare essentials, they welded a steel structure inside to support the aquarium, and finally constructed transparent acrylic walls to conform precisely to the inside of the vehicle. The tank's dimensions vary from front to back, although they are roughly 97 inches x 68 inches x 44 inches.
"It was a challenge to take a brand new vehicle apart and keep it as one piece with an 800-gallon aquarium inside it," King told us. "We had to cut the acrylic and then gel-coat it to make sure the car was waterproof."
Plumbing for the tank's filtration was placed underneath the vehicle and under the hood. Electric power to run custom lights, heaters, and filters came from floor outlets outside the vehicle. Access to the tank is through the sun roof.
Toyota put 115 fish in the Highlander as a way of showcasing its SpongeBob SquarePants-themed vehicle, introduced in July and named for a popular cartoon show about a talking sponge. Toyota and Tanked displayed the automotive aquarium at the Specialty Equipment Market Association (SEMA) automotive aftermarket show in Las Vegas last week. The vehicle is now scheduled to be drained and dismantled, trucked to Los Angeles, and reassembled for the LA Auto Show in November.
Related posts: