If you're looking for ways to build a better product, then you might start by tapping the wisdom of those around you.
That's the message of Midnight Lunch: The 4 Phases of Team Collaboration Success from Thomas Edison's Lab, a newly published book by Edison's great-grandniece, Sarah Miller Caldicott. It takes on the notion that Edison was a lone-wolf inventor and replaces it with an image of a man who ascribed great value to the ideas of colleagues.
"He viewed collaboration as the beating heart of his laboratories, a sustaining resource that fueled the knowledge assets of his sprawling innovation empire," Caldicott writes in the book.
In a discussion with Design News, she told us about Edison's emphasis on collaboration. She also gave us four suggestions for innovative product design, based on Edison's approach.
Know your colleagues
Too often, design engineers put in their time and leave the office without sharing their ideas, or themselves, with their colleagues. "In a real collaboration, there should be a focus on learning from others and leveraging their strengths," she said.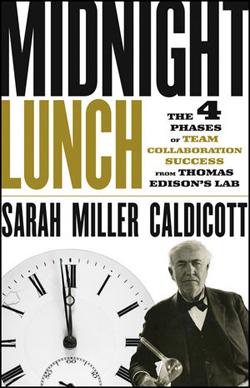 The 10-12 members of Edison's team accomplished that by sharing a pool of common experience. They often returned to the lab after dinner and checked on ongoing experiments. Edison insisted that they share their notebooks with one another -- the better to understand how each team member's ideas fit in the grand technical plan. They also engaged in "midnight lunches," occasionally working deep into the night together and in many cases following no prescribed work schedule. Edison was a proponent of flex hours long before it became a corporate practice.
Caldicott insists that such methods create an important camaraderie. "When people share dinner and go back to work, it makes for a collegial environment. It's more than just a raw exchange of ideas. The team members become colleagues."
Encourage diverse viewpoints
Many engineering environments include large teams whose members come from similar backgrounds. Often such teams are made up solely of mechanical engineers, electrical engineers, or software engineers.
Edison believed that homogeneous teams were less effective. When he was developing his incandescent light bulb, his team members included physicists, mathematicians, and chemists. He also brought in individuals with backgrounds in prototyping. "Sometimes, when teams of engineers get together, they are like minded. They speak the same language. But it's very important that they learn someone else's language and see the problem from their perspective."
Consider at least three options
It's tempting for engineering teams to lock in on one solution very early in the development process, but Caldicott encourages teams to consider multiple options. Edison often considered 10 or more ideas. For the incandescent bulb, he examined a dozen.
By approaching the problem in that way, team members engage more effectively and understand the big picture more thoroughly.
If you have a working rule of at least three options, it forces you out of your comfort zone. Teams need to explore. They need to understand which options are closer to the status quo and which are out there. Only by doing that can they begin to understand the boundaries of their problem.
Always consider the customer
One of Edison's few failures was the electric vote recorder, which he designed without sufficient back-and-forth discourse with users. From that failure, he learned a valuable lesson. "He realized that, when he didn't listen to customer needs, he failed."
When she speaks to technical teams, Caldicott is surprised to find how many engineers haven't learned that lesson. "Engineers tend to fall in love with their technologies, but you need to do the research. Visit the customer facility, look at trends, or talk to people who are using similar products. You should always take some time to find out what the customer's needs are."
Related posts: