Formula One and Indy racing teams are increasingly converging on a simulator in Italy to give themselves an edge in the design of their cars. The simulator, which enables professionals to drive and evaluate virtual versions of their vehicles, is gaining popularity among race teams because it enables them to get feedback from drivers early in the development process.
"In the past, the driver was able to give you feedback only after the car was produced, which is typically 15 months for a racing car," Allessandro Moroni, manager of simulation for Dallara Auomobili, an Italian race car chassis designer, told Design News. "Now, from the very first stages, we can get the driver involved."
Click the photo below to start the slideshow.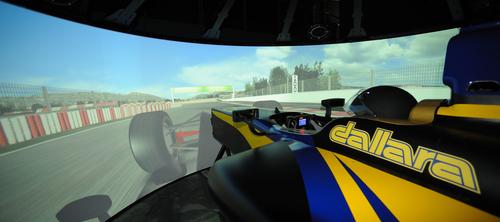 Built by Moog Inc., the driving simulator is essentially a motion base. It consists of a 2,000-kg aluminum dome mounted atop six electromechanical actuators. The actuators allow drivers to feel the forces of acceleration and braking. A 270-degree screen inside the dome also lets them see a projected image of the track, while speakers enable them to hear the roar of the engine. Liquid crystal displays on screens alongside the drivers even let them examine the scene behind the car in rear view mirrors.
"To feel it, they need a motion system that simulates the acceleration and the curves in the track," Fons Hoeberichts, program manager for test systems at Moog, told us. "They need to see the track and the scenery and the houses around them to give them the feeling they are driving."
The key to Moog's motion base is the actuators, which provide the forces that a driver feels in real life. The six actuators (ball screws) have strokes of about 60 inches and produce about 600 N-m of torque, enabling them to quickly move the 2,000-kg aluminum dome. Maximum speed of the actuators is about 1.5 m/s and acceleration tops out at about 20 m/s2. "This is, as far as we know, the fastest electromechanical motion system of this size," Hoeberichts told us.
By incorporating a vehicle dynamics software model in the simulator's computer, designers of the car are able to evaluate virtually every sub-system inside the vehicle. They know if the chassis is stiff or soft; they can tweak the weight distribution and learn about the engine and transmission. The dynamics model also simulates the handling, steering, tires, aerodynamics, and electronics, even enabling them to examine the braking system and the engine control module, among other features.
For race teams, it's an advantage over the traditional methods of computer-aided design, not only because it allows the drivers to feel the track, but because it also enabless them to change key features before the car is produced.
The bottom line is better and faster design, Hoeberichts said. "Within five minutes, you can change the whole set-up, evaluate it, and see where the differences are," he told us. "It's easier for the driver and much quicker."
Dallara said the simulator evolved out of a shared vision between its designers and those of its race teams. The system is currently being used by European Formula One teams and some teams from the IndyCar racing league, at Dallara's facility in Varanao de' Melegari, Italy. "We try to get the drivers into the simulator as soon as we can," Moroni of Dallara told us. "It's the best way to find the right answers."
Related posts: