From sensors to electronics to additive manufacturing systems, the recent Medical Design & Manufacturing Show in Anaheim demonstrated thousands of new and existing products.
Following are a few of the best seen by Design News Senior Technical Editor Chuck Murray. For Executive Editor Jennifer Campbell's take on the show, click here.
Superhero stands 6 feet, 4 inches tall and weighs 29 pounds
Standing 6 feet, 4 inches tall and weighing a scant 29.2 pounds, Solid Concepts' ZoomR superhero provides a new twist on additive manufacturing. Unlike most models made by the stereolithography (SLA) process, it's semi-hollow, employs a thin skin, and consists of just eight parts. It's also about 1/12th the weight of a solid SLA-based model.
The key to those characteristics is ZoomR's use of a process called ID-Light, which combines stereolithography with a proprietary laser-scanning technique. As a result of the process, ZoomR's big parts can be built atop a semi-hollow inner scaffolding, thus providing a combination of light weight and strength.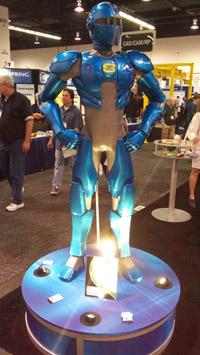 "There are a lot of people in additive manufacturing who think of stereolithography as being for small, brittle parts," Chuck Alexander, product development manager for Solid Concepts, told Design News. "But there's no reason you can't use it for things that are larger."
ID-Light can also be used for fused deposition modeling (FDM), Alexander said. With FDM or SLA, it can create skin thicknesses as low as 40/1,000ths of an inch.
He added that the ID-Light process is targeted at design teams building lightweight models, particularly mock-ups of medical equipment. He said it has also been used by designers to model 3D printers and by artists to create computer-designed sculptures.
A simple sensor that replaces vision
At the show, Tri-Tronics demonstrated how an ultrasonic sensor could replace sophisticated vision systems in selected printing applications for medical products.
A case in point: The company recently used an ultrasonic sensor to simplify the design of a printing system that makes labels for syringes. Instead of using a sophisticated vision system to catch misapplied labels after the fact, Tri-Tronics employed its Ultrasonic Clear Label Sensor to help align the printer as it applies the label. In the process, it replaced a customer's vision system that cost several times as much.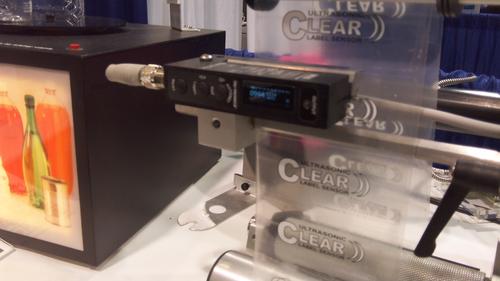 "Using a reasonably priced ultrasonic sensor, we were able to align it right at the printer, so that the label would always be in the right place at the right time," Tim Kelly, vice president of business development for Tri-Tronics, told Design News. "That way, the printing is always accurate."
Kelly added that the company has also been asked by a major brewery to do the same for its labeling process. In addition, the technology can be used for printing of labels on cartons and for splice detection in web printing applications, he said.
Faster time to market for gas detection systems
Also at the MD&D Show, Texas Instruments (TI) demonstrated a wireless gas sensing platform that could serve as the foundation for toxic gas detection, air quality monitoring, and alcohol breathalyzers, among other applications.
A finalist in Design News' Golden Mousetrap Awards, the platform is essentially an analog front end (AFE) that resides between a sensor and a microprocessor. It includes a Bluetooth Low Energy system-on-chip for wireless operation and power management as a means of minimizing its use of electrical current. The platform is capable of 200 days of operation on a single 3V lithium coin cell, with maximum total power consumption of 40 µA.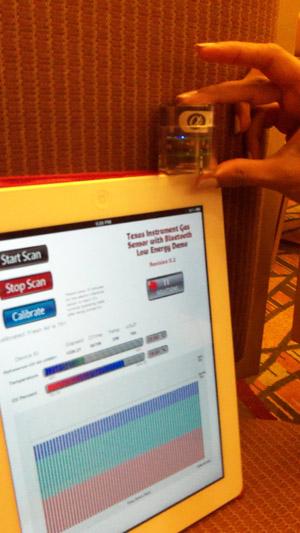 Known as the TI Sensor AFE System, the single-chip solution is said to cut time-to-market by resolving many of the typical design issues up front. "With a sensor-based system, there are always issues," Karthi Gopalan of TI told Design News. "You've got bias challenges, grounding issues, and noise. Our solution takes care of all of those issues."
TI said the product has been employed in an Apple iPad user interface that monitors changes in gas levels. The AFE system, in all of its various embodiments, can be used with a variety of electrochemical gas sensors, including CO2, H2S, CO and O2. End applications include mining and commercial buildings, as well detection of greenhouse gases.
Related posts: