Most of us are only vaguely aware of it, but there's a mini revolution taking place in the medical device industry that's going to change the way we monitor our health in the coming decade.
Even today, wearable pods are dispatching insulin to diabetics, body patches are performing electrocardiograms, and activity monitors are watching the calories we burn. But in the next few years, the number and capabilities of such devices is set to skyrocket. "There's going to be a lot of new wearable devices coming out in the next five years," David Niewolny, healthcare business development manager for Freescale Semiconductor, told Design News. "And it's going to be driven by what we can do from a semiconductor standpoint to make these devices disposable and less costly."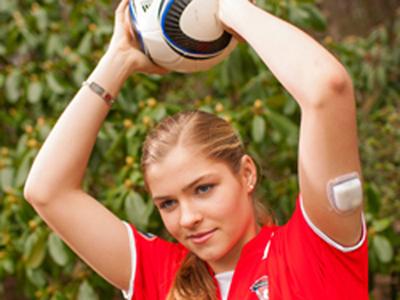 A case in point is the OmniPod from Insulet Corp. The OmniPod is a tubeless, wearable pump that attaches to the skin of a diabetic patient and automatically delivers insulin through a canula. The device, which employs a patch and a PDA-type monitor, was revolutionary when it hit the market in 2005, but now it's gotten 35 percent smaller. Part count has been reduced from 40 to 22. Battery count has dropped from four to three. Its new microcontroller (MCU) chip now incorporates the field effect transistors, watchdog timer, analog comparator, and RF components.
Moreover, OmniPod's eight-bit Freescale MCU now burns less current than the previous MCU. And because it needs one less lithium-ion coin cell, cost has dropped. "One of the biggest expenses ends up being the batteries," Niewolny told us. "Eliminating even one battery can take a big chunk out of your BOM (bill of material) costs. And when you're trying to create a disposable design, that's huge."
The benefits of the OmniPod will serve as a foundation for other wearable devices, Niewolny said. "You have this small, discreet patch that you can wear for a period of time and when you're done with it, you can throw it away. You don't have a contamination risk. There are no hazards. And when you throw it away after a few days, you use another one," he said.
The same characteristics will apply to heart management devices. Holter monitors, which are about the size of a 1995 Palm handheld and must be taped to a patient's abdomen, are now being replaced by devices such as the Zio Patch from iRhythm, which are much smaller but can monitor the heart effectively. Other electronics companies, such as Texas Instruments and Analog Devices, are working on analog front ends that might one day place electrocardiogram capabilities in a patch the size of a Band-Aid. Such systems are possible, engineers say, with the continued development of flexible printed circuit board technologies and application-specific integrated circuits.
Similarly, new wearable devices are tracking activity and food intake. Jawbone, Fitbit, and Nike create such devices for fitness-oriented consumers, but the same technology can also be used to help the obese deal with illnesses that could be curbed by careful control of diet and exercise.
The key is to create an electronic foundation for such products, Niewolny said. "By integrating all those external components, you're making a smaller, more discreet solution, and you're lowering the power consumption," he told us.
The bottom line is that small size, low cost, and simple disposability matter to consumers who might potentially adopt such technology. "There are diseases that need to be actively managed, and right now they are not managed because it's not easy and convenient," Niewolny said. "But with the right technology and the right price point, all of that changes."
Related posts: