Electronic News & Comment

Engineering took a terrifying turn at Pack Expo in Chicago on Halloween, as the pneumatic equipment supplier Bimba Manufacturing Co. demonstrated the air-powered Scary Guy for some of the show's 46,000 attendees.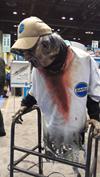 The Scary Guy is an animatronic figure built by the Scare Factory. Bimba supplied components for electronic controls, air cylinders, valves, fittings, and filters to enable the figure to move its upper body independently. Bimba engineers said the pneumatic bill of materials for the Scary Guy amounted to less than $300.
Related posts: