If you're a hard-core, dyed-in-the-wool gadget freak, Popcorn, Indiana LLC may have a design task for you.
The maker and seller of snack foods recently introduced the Popinator, which it calls a "fully automated, voice activated popcorn shooter." In videos, the device reacts to the spoken word "pop" by launching a kernel of popcorn into someone's mouth.
It's supposed to be a novelty -- a modern-day, mechanized version of the Pet Rock. And public reaction to it has been virtually off the charts. A YouTube video from the company (at the bottom of this post) has drawn 1.7 million hits. National and local television news shows have featured it, and newspapers around the country have written about it.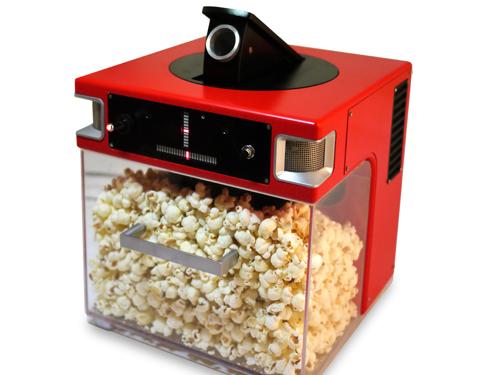 The problem with the machine is it doesn't work -- at least not in the way described in the company's video. "It does shoot popcorn, but it is remote-operated, not voice," Amanda Tiberi, marketing coordinator for Popcorn, Indiana, told us in an email. "It does exist, but only one, and it is a prototype in our office."
The video claims otherwise. "The Popinator uses a binaural microphone system, which is similar to the way the human hearing system works," says Ted, an electrical engineer seen in the video. "Basically, it is able to calculate, using the small differences in the arrival time of sound waves and their reflections, where a sound originated from."
Technically, Ted's description sounds good. But when a CNN reporter tried to use the device, it launched popcorn all over the floor. And it didn't react to the word "pop." It wasn't clear if the binaural microphones were even installed.
Of course, Popcorn, Indiana's idea -- post an embellished video on the Web, wait for it to go viral, and reap the name-recognition benefits -- isn't new. In truth, it's no different from what Volkswagen did this year with the Hover Car we discussed in June. In terms of plausibility, however, the Popinator and the Hover Car are in different leagues.
Randy Frank, an expert in sensing technology, told us it would be feasible for the Popinator to have a binaural MEMS audio sensor, which is often used in smartphones. Moreover, there's no reason the device couldn't find the source of the sound and launch a kernel in the appropriate direction. "Using a reasonably sophisticated software algorithm and some sensor fusion, you can make that projectile travel accurately to the direction of the sound."
The project could be expensive and could have its challenges. "Any time you do voice activation, you have to worry about false triggers," he said. "You don't want this thing shooting popcorn at your dog every time it barks, and that takes some engineering expertise. It's not trivial."
Can it be done? Popcorn, Indiana (which, by the way, is located in New Jersey) isn't asking for our help. But we encourage readers to weigh in with a comment. After all, who hasn't dreamed of owning a voice-activated machine that shoots popcorn into your mouth?
Related posts: