Liquid batteries also offer other advantages. Prudent Energy's Vanadium Redox Flow Battery stores energy in ionic forms of vanadium and pumps it across a proton exchange membrane. By doing so, the battery produces a reaction that's reversible, enabling it to be easily charged and discharged.
Hennessy compares the technology to a car's engine and fuel tank. In a car, increasing the size of the engine produces more power, while a bigger fuel tank offers greater range. The same goes for the flow battery, he said. Greater size means more power, while adding more liquid results in longer application times. "With lithium-ion, it's all power and energy wrapped in one box," Hennessy told us. "You can't add hours separately from megawatts. With ours, if you want extra hours, you just add extra liquid."
He said the Redox battery's energy density is about one-seventh that of lithium-ion (20Wh/kg versus 140Wh/kg for lithium), but contends that it can be cycled almost indefinitely. He also adds that its initial costs and operating costs are far lower than that of lithium-ion. The technology has been used in applications in Ireland, Japan, Denmark, Germany, South Africa, and Alaska, among other places.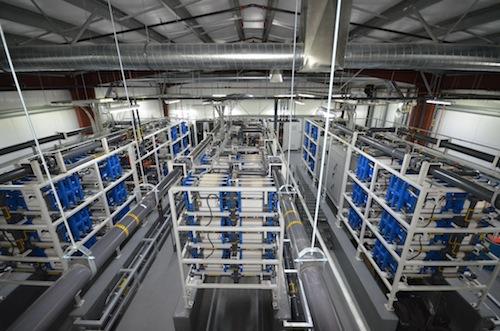 Flywheels: Power versus energy
As demand for grid storage batteries rises, some experts expect flywheel solutions to find a niche, as well. Vycon Inc., for example, is employing fast-spinning flywheels in uninterruptible power supply (UPS) applications. Using 200-pound flywheels rotating at 37,000rpm, the company says its technology can bridge the 15 seconds between when utility power is lost and backup generators kick in. Up to now, server farms and other users of such systems have typically used batteries to bridge that gap.
"The flywheel provides enough run time to get the gen-set started," said Frank DeLattre, president of Vycon. "And we know with good confidence it will be available when we have a power outage."
Vycon's technical twist is that it trades larger flywheel size for rotational speed. Because energy varies with the square of the velocity, the company says it can get more energy by spinning the flywheel faster. "If you double the mass, then you've doubled the storage energy," DeLattre said. "But if you double the speed, then you get the benefit of the square. That's why we use a smaller mass rotating at a higher speed."
The key to doing that is the company's application of magnetic bearings instead of conventional mechanical units. Conventional bearings can't handle the speeds of Vycon's flywheel, DeLattre said. With their magnetic bearings, Vycon's flywheels can provide high power for a short period of time (20 seconds), instead of the higher energy that a battery-based unit would supply over a 10-minute duration. "Flywheels are focused on power density rather than energy density," DeLattre added. "So when the application calls for high power over a short run time, the flywheel hits the sweet spot."