Still, battery makers hope to sidestep those challenges with the new breed of grid energy storage systems. Such systems must be huge, of course, to store the energy for utilities, but a growing number of companies believe they can make it happen.
A123 Systems, for example, offers a "containerized" grid storage system that incorporates 83,000 small cylindrical lithium-ion cells in a 53-foot-long trailer with an electronic controller built in. Known as a Grid Storage Solution (GSS), the A123 product produces 2Mw for a 15-minute duration (500kWh), enough to power about 500 homes. The company has placed the GSS with power producers in West Virginia, Chile, Hawaii, California, and the UK. Laurel Mountain Wind Farm in West Virginia employs 16 of the 2Mw units to store power from nearby turbines.
Similarly, French battery maker Saft is employing its containerized lithium-ion batteries to store energy for electric commuter trains in Philadelphia. The product, which serves a substation along the elevated railway, senses when the voltage in the train's third rail is too high, sucks the DC power out of the rail, and pushes it into a giant lithium-ion battery pack until it's needed. Using a well-known nickel-cobalt-aluminum chemistry, the battery offers about 1.5Mw of charge and discharge capability.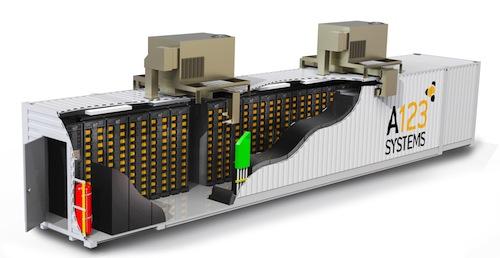 One of the big advantages of Saft's system is that it can modulate loads in response to a signal from a grid operator. The result is more intelligent use of power for the utility. "So a megawatt of storage might displace a megawatt of fossil fuel generation," said Jim McDowall, business development manager for Saft.
Liquid batteries
Lithium-ion isn't the only solution, however. MIT-spinoff Liquid Metal Battery Corp. (LMBC), backed by Bill Gates, employs a liquid battery that's heated to between 400°C and 700°C. The essential components include a high-density liquid metal at the bottom of the cell, a molten salt electrolyte in the middle, and a low-density liquid metal above that. The two liquid layers serve as electrodes, while the molten salt acts like an electrolyte. The difference between the metals gives rise to the battery's voltage.
The advantage of LMBC's battery is that it can be made big and cheap, while offering high energy -- up to 2MWh. Although the company's executives won't say how much their battery costs now, they believe it could fill a major storage role if they can get its costs down to $100/kWh. "Our batteries will be big and we'll get economies of scale from that size," said LMBC CEO Phil Guidice. "And if we can provide cost-effective storage, we could have thousands of these being used by a single utility."
Bill Gates has been open about his reasons for supporting the startup. "Without (inexpensive storage), renewable energy resources like wind turbines and solar cells will never approach the scale or affordability that's necessary," he wrote in an article titled "We Need a Battery Miracle."