Kick your foot under a 2013 Ford Escape, keep a key fob in your pocket, and the vehicle will open its rear liftgate automatically. That might not seem like a particularly hairy technical challenge, until you consider that the vehicle has to discern the difference between your foot and, say, a cat or a basketball. What's more, it has to understand your intentions.
"The tricky part is verifying intent," William McRoy, product development engineer for Ford Motor Co., told us. "You might be walking up to your vehicle but not want the liftgate to open. This has to be able to tell the difference."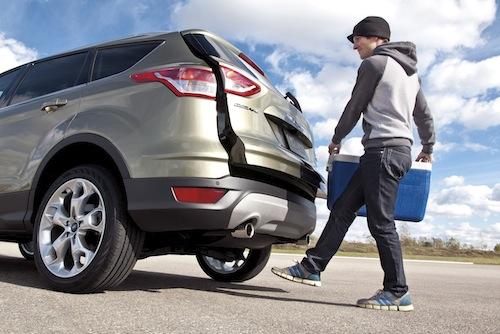 To accomplish that, Ford's hands-free power liftgate employs capacitive sensing. Two sensors (one at the top and another at the bottom of the car's bumper fascia) "look" for the driver's foot and shin. When a microcontroller-based "hands-free module" in the vehicle verifies their presence, it communicates with a body control module that searches for the key fob in the driver's pocket. If the foot, shin, and fob are all detected, the system sends a signal to a liftgate module, which operates the door switch.
"The fob can be in a customer's purse or in a pocket," McRoy said. "The idea is you don't have to put down your groceries before you open the door."
Ford said the capacitive sensors endow the system with the ability to discriminate between a cat, a basketball, a foot, or a shin on the basis of electrical capacitance. Algorithms in the hands-free module then put the information together in a way that suggests intent.