The Dodge Dart, which will soon be back on the streets after a three-decade hiatus, uses light-emitting diodes (LEDs) in a way that drivers, passengers, and pedestrians are unlikely to miss.
More than 150 (152, to be exact) LEDs form a ruby red "racetrack" around the Dart's trunk, tail lights, and rear decklid. The full-width LED-based design is said to be a first in its segment, and it's the most prominent use of the technology in any compact car to date.
"It's something you'll be able to see from a mile down the road," Jeff Gale, Dart's design manager, told Design News at the recent Detroit Auto Show. "You'll instantly recognize it as the Dart."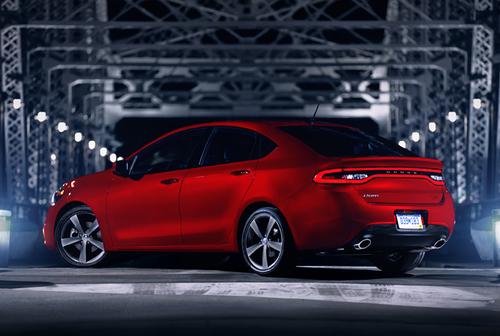 To be sure, there's nothing unusual about the use of LEDs in automobiles. Luxury automakers have made liberal use of them for a decade. Tail lights, parking lamps, daytime running lamps, high-mount stop lamps -- all have employed LEDs. Ford's Mustang even used the technology in map pockets, rear seats, and sill plates.
Up to now, however, the automobiles that incorporated LEDs in a big way were luxury cars. Audi was one of the first, along with Lincoln, Lexus, BMW, Hummer, and Cadillac. As the technology matured, it trickled down to less pricey vehicles, such as the Dodge Charger, Ford Mustang, and Ford Explorer.
To date, though, compacts made little or no use of the technology. (Chevy Cruze has used it in its instrument panel, however). That's why the Dart, with its broad and visible use of LEDs, is unusual.
The reason for such scarce use of LEDs in compacts has been cost. But because today's LEDs cost less than a third of what they were in 1999, designers and engineers are increasingly employing them.
"The reduction in cost of LEDs has allowed us to push the envelope and improve the resolution," said Meric Adriansen of D3 LED in a 2008 Design News interview. As a result of the cost dip, engineers have been able to push the envelope by decreasing the dot pitch between LEDs, thereby vastly boosting the amount of available light.