Electronic News & Comment

Cadillac will make its debut in the compact luxury market segment this year, thanks to a massive engineering effort that has resulted in a lightweight, high-strength body structure.
The structure makes liberal use of aluminum, magnesium, high-strength steel, and ultra-high-strength steel. It played a key role in bringing the new ATS sedan in at a curb weight 500 pounds lighter than that of its closest predecessor, the Cadillac CTS.
"We counted mass on all of our structural members in terms of grams," David Masch, vehicle chief engineer of Cadillac, told us. "We even ended up debating the size of fasteners."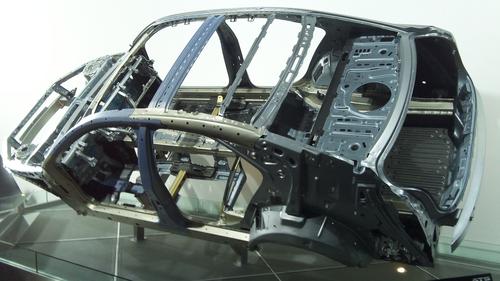 Cadillac's design effort called on teams of structural engineers, chassis engineers, materials specialists, and mathematicians to create a body structure that would manage loads intelligently. By positioning structural members to be in shear, rather than in bending, the designers made cross-sectional areas of virtually all members smaller. "Putting members in shear is the most efficient way to manage loads," Masch said. "The more you can get those structural members in line with the loads, the more efficient you can make them."



More Blogs from Electronic News & Comment

2
Using almost 200 light-emitting diodes in the front and back of the new 2014 CTS, Cadillac designers are showing how LEDs can change the character of a vehicle.

25
We recently posted an online slideshow called, "18 People You Didn't Know Were Engineers." Within hours of its publication, readers began to suggest names of other luminaries -- astronauts, politicians, athletes and actors -- who were educated or had worked as engineers.

8
Formula One and Indy racing teams are increasingly converging on a simulator in Italy to give themselves an edge in the design of their cars.

26
In yet another sign that hydrogen is creeping into the consciousness of global automotive designers, sports car maker Aston Martin plans to run a hydrogen-fueled vehicle in a 24-hour Grand Touring race later this month.

53
One of the ugly truths of engineering is that life has a price. Cars, buildings, power plants, and industrial machinery can always be made safer for a cost, but manufacturers are at the mercy of the market.


A quick look into the merger of two powerhouse 3D printing OEMs and the new leader in rapid prototyping solutions, Stratasys. The industrial revolution is now led by 3D printing and engineers are given the opportunity to fully maximize their design capabilities, reduce their time-to-market and functionally test prototypes cheaper, faster and easier. Bruce Bradshaw, Director of Marketing in North America, will explore the large product offering and variety of materials that will help CAD designers articulate their product design with actual, physical prototypes. This broadcast will dive deep into technical information including application specific stories from real world customers and their experiences with 3D printing. 3D Printing is




Datasheets.com Parts Search
185 million searchable parts
(please enter a part number or hit search to begin)