Electronic News & Comment

Cadillac engineers augmented the optimized structural load path with materials that further reduced weight. They employed high-strength steel, which offers yield and tensile strengths about four times higher than those of conventional steels. They also used ultra-high-strength steel, which is about four times stronger than high-strength steel. Those materials allowed strategic structural members to be made from thinner gauges.
To further reduce vehicle mass, the engineering team also employed an aluminum hood, aluminum shock towers, an aluminum engine cradle, an aluminum instrument panel beam, and magnesium engine brackets.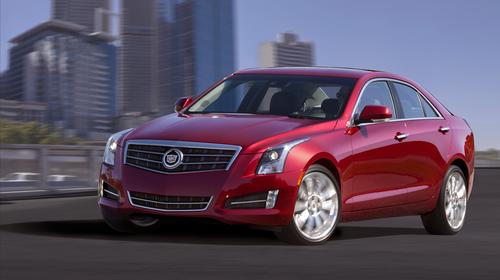 The new car's powertrain and suspension also make extensive use of aluminum. Its cylinder block, cylinder heads, and pistons are made of lightweight cast aluminum. The intake manifold saves about 5.5 pounds, and the exhaust manifold saves about 13 pounds through the use of aluminum. And the engine's connecting rods are made from a powder metal that incorporates a high ratio of copper, thus further cutting weight.
The ATS five-year design effort is notable, not only for its intelligent structural design, but also for Cadillac's ongoing commitment to costly engineering processes while GM struggled with its finances. During that period, Cadillac engineers benchmarked competitors' vehicles, such as the BMW 3 Series, Mercedes C-Class, and Audi A4. They ran clinics in China, Germany, the US, and Great Britain. They visited and rode with owners of those vehicles and learned about the advantages and disadvantages of each. Finally, they built multiple ATS mules to analyze the performance of sub-systems, such as the suspension, and tested them on race tracks.



More Blogs from Electronic News & Comment

23
We recently posted an online slideshow called, "18 People You Didn't Know Were Engineers." Within hours of its publication, readers began to suggest names of other luminaries -- astronauts, politicians, athletes and actors -- who were educated or had worked as engineers.

8
Formula One and Indy racing teams are increasingly converging on a simulator in Italy to give themselves an edge in the design of their cars.

26
In yet another sign that hydrogen is creeping into the consciousness of global automotive designers, sports car maker Aston Martin plans to run a hydrogen-fueled vehicle in a 24-hour Grand Touring race later this month.

53
One of the ugly truths of engineering is that life has a price. Cars, buildings, power plants, and industrial machinery can always be made safer for a cost, but manufacturers are at the mercy of the market.

39
Front-seat television technology is beginning to creep into the worldwide automotive market, but regulators, automakers, and suppliers say it's unlikely to take hold in the US.


A quick look into the merger of two powerhouse 3D printing OEMs and the new leader in rapid prototyping solutions, Stratasys. The industrial revolution is now led by 3D printing and engineers are given the opportunity to fully maximize their design capabilities, reduce their time-to-market and functionally test prototypes cheaper, faster and easier. Bruce Bradshaw, Director of Marketing in North America, will explore the large product offering and variety of materials that will help CAD designers articulate their product design with actual, physical prototypes. This broadcast will dive deep into technical information including application specific stories from real world customers and their experiences with 3D printing. 3D Printing is




Datasheets.com Parts Search
185 million searchable parts
(please enter a part number or hit search to begin)