Cadillac engineers augmented the optimized structural load path with materials that further reduced weight. They employed high-strength steel, which offers yield and tensile strengths about four times higher than those of conventional steels. They also used ultra-high-strength steel, which is about four times stronger than high-strength steel. Those materials allowed strategic structural members to be made from thinner gauges.
To further reduce vehicle mass, the engineering team also employed an aluminum hood, aluminum shock towers, an aluminum engine cradle, an aluminum instrument panel beam, and magnesium engine brackets.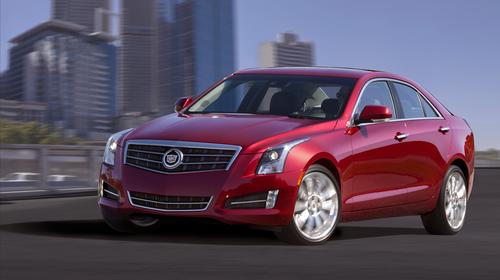 The new car's powertrain and suspension also make extensive use of aluminum. Its cylinder block, cylinder heads, and pistons are made of lightweight cast aluminum. The intake manifold saves about 5.5 pounds, and the exhaust manifold saves about 13 pounds through the use of aluminum. And the engine's connecting rods are made from a powder metal that incorporates a high ratio of copper, thus further cutting weight.
The ATS five-year design effort is notable, not only for its intelligent structural design, but also for Cadillac's ongoing commitment to costly engineering processes while GM struggled with its finances. During that period, Cadillac engineers benchmarked competitors' vehicles, such as the BMW 3 Series, Mercedes C-Class, and Audi A4. They ran clinics in China, Germany, the US, and Great Britain. They visited and rode with owners of those vehicles and learned about the advantages and disadvantages of each. Finally, they built multiple ATS mules to analyze the performance of sub-systems, such as the suspension, and tested them on race tracks.