While sitting in the backseat of a sport utility vehicle in 2007 with two distracted kids and a dog, General Motors engineer Cody Hansen learned about the realities of center console usage. Hansen, along on the ride as an observer, watched a 40-ish mother of two struggle with her car's aftermarket navigation and radio system -- pushing repeatedly on the touch display, tapping harder when it didn't work, and hunting through menus to find the right screen.
"Why does it have to be so hard to go from one screen to the next?" the exasperated driver demanded. "Why is it so hard to go from my iPod to my nav?"
Four years later, Hansen and the rest of the 40 engineers and designers behind Cadillac's new CUE (Cadillac User Experience) have an answer to those questions: It shouldn't be that hard. After hundreds of hours of observing users, and thousands more hours debating among themselves, the technical team has rolled out a product that GM executives believe is the next big thing in telematics. The CUE -- a center stack that works like a smartphone -- combines entertainment and information data from up to ten Bluetooth devices, USBs, and MP3 players with a user interface that can be easily appreciated, even by a dyed-in-the-wool Luddite.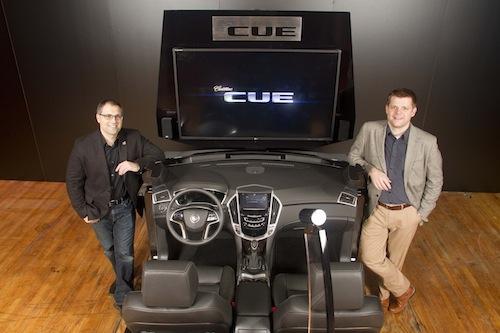 "What the smartphone did for the cellphone, CUE is going to do for the infotainment space," says Micky Bly, engineering executive director for GM.
Clearly, GM engineers are proud of the new technology, having referred to it as "dramatic," "holistic," and "magical" at a recent press conference in San Diego. But what makes CUE different to other center console systems -- inside and outside GM -- is the team's penchant for using customers to help with the innovation. In the course of designing CUE, GM engineers traveled to California, Texas, Boston, and Chicago to ride with more than 120 users of navigation and radio consoles.
They went on sales calls, travelled with real estate agents showing homes, and even joined drivers who were on vacation. They sat in backseats with families and watched husbands and wives argue over infotainment intricacies. And in the end, they walked away with a better understanding of how drivers use infotainment.
"A lot of our design solutions were directly related to what we saw in the field," Hansen says.
The idea for CUE grew out of internal marketing discussions early in 2007. During the discussions, GM executives pointed out that Cadillac's competitors were a step ahead on offering specialized infotainment consoles. BMW had its well-known iDrive; Mercedes-Benz had its Comand; and Audi, its MMI. Yet, GM saw the infotainment space as one it wanted to grow into.