Ethernet technololgy in the car -- a concept that was once unthinkable for the automotive industry -- has been gaining momentum lately.
A coalition of automakers and automotive suppliers said recently that they are forming a special interest group (SIG) aimed at driving broad-scale adoption of Ethernet in vehicles, largely to serve the expected boom of camera-based applications in cars. At the same time, NXP Semiconductors announced that it is licensing Broadcom Corp.'s BroadR-Reach Ethernet technology, which would enable automakers to run a two-wire, twisted-pair type of Ethernet, instead of the four-wire type we've come to know in laptops.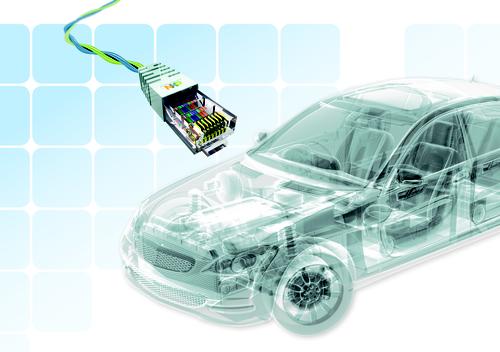 The two announcements are significant if you put them within the context of auto industry trends. Many vehicles now have backup cameras, and many others are going to add cameras for such applications as lanekeeping, adaptive cruise control, and collision avoidance. Because cameras are bit-gobblers, a fast databus, such as Ethernet, makes sense as a data highway connecting those camera applications.
"Features like traffic sign recognition, rear-view assist, blind-spot detection, lane departure warning -- all of these require cameras," Lars Reger, vice president of strategy and new business for NXP Semiconductors, told us in an interview. "Middle- and upper-class cars will soon contain between five and 15 cameras apiece."
The NXP-Broadcom announcement makes even more sense if you consider the importance of weight in the world of vehicle design. Because most of today's vehicles already carry between 45 and 70 pounds of wiring, the idea of adding mass for camera cabling makes automotive engineers cringe. But by cutting the Ethernet cabling from the commonly used four wires to two -- thereby reducing the potential weight -- Ethernet becomes more appealing.
That's probably why NXP and Broadcom are playing a big role in the launch of the new special interest group, known as the OPEN (One-Pair-Ether-Net) SIG. This SIG -- which includes BMW AG, Hyundai Motor Co., Harman International, and Freescale Semiconductor -- is focused on the idea of creating a single physical layer that would enable easy use of Ethernet with vehicle cameras.
The licensing agreement fits neatly into the overall picture, because it marries Broadcom's two-wire technology (developed for use in buildings with old twisted-pair type wiring) with NXP's experience in making transceivers for the CAN, LIN, and FlexRay automotive databuses. The plan is for NXP to make a two-wire Ethernet transceiver that connects to each end of the camera's databus cable.
The irony of this sudden trend is that a few years ago, Ethernet wasn't seen as a solution to any applications in the car. A decade ago, BMW and Daimler fixed on the idea of using the high-speed MOST (Media Oriented Systems Transfer) databus for in-vehicle cameras and video applications. However, MOST has fallen out of favor in some quarters, partially because of cost-related issues.