Warnings come in various forms, which the driver can customize. If the system detects a driving pattern that's consistent with drowsy driving, for example, a "driver alert" mode sounds a chime and illuminates a coffee cup icon on the dashboard's instrument cluster. If a driver prefers a more aggressive "lane-keeping alert" mode, the vehicle can notify the driver by vibrating the steering wheel. Finally, a lane-keeping aid takes the technology even further by supplying steering torque to move the vehicle back to the center of the lane.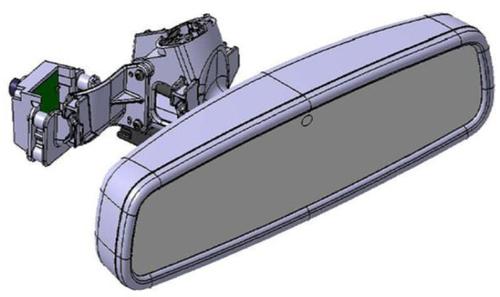 Ford says the technology will be a significant one for drivers. It cites statistics from the AAA Foundation for Traffic Safety that 40% of drivers have nodded off at the wheel.
Other automakers have employed various kinds of lane-keeping technology. Up to now, however, the technology has been reserved for high-end cars. Ford's announcement changes that. By building on the existing electric power assist steering (EPAS) technology, the company's engineers are enabling Ford to move lane keeping to a broader swath of vehicles, Kane said.
The key to Ford's plan is its intelligent use of the EPAS technology. During operation, the lane-keeping system's mirror module sends the processed image information to the vehicle's CAN (controller area network) bus, which connects to the EPAS system. The EPAS's motor, in turn, uses the signal from the lane-keeping system to send a rumble-strip feeling through the steering gear and into the driver's hands. Or it can employ the signal from the lane-keeping system to steer the car back into its lane.
Ironically, Ford didn't add the EPAS technology for the purpose of incorporating a lane-keeping feature. Rather, it added EPAS as a way of boosting fuel efficiency, because electric steering eliminates the need for the conventional belts and pumps that sap fuel efficiency. But by switching to EPAS and improving its fuel efficiency, Ford was able to add such features as parking assistance and lane keeping more easily.
The automaker plans to incorporate the lane-keeping technology in future unnamed vehicles. It has not said whether lane keeping is forming the foundation for more powerful features, such as collision avoidance. For the moment, Ford engineers see lane-keeping technology as a safety feature unto itself.
"We're using it as a warning -- a gentle nudge," Kane said. "We're just trying to direct the driver's attention to the road ahead."
For Further Reading