When it comes to choosing corporate missions, National Instruments Corp. (NI) doesn't think small.
Speaking to a shoulder-to-shoulder audience of 3,000 engineers at the NIWeek conference in Austin, Texas, on Tuesday, National Instruments co-founder and CEO James Truchard said that his company is "working toward solving engineering's grand challenges." Those challenges include such monumental tasks as reverse-engineering the human brain, acquiring energy from fusion, preventing nuclear terror, engineering better medicines, restoring urban infrastructure, and providing worldwide access to clean water, he said.
"These are things that society cares about," Truchard told Design News. "If you want to attract good engineers, it helps to look at society's greatest challenges and then to call on your engineers to be part of a mission to solve them." Truchard, who is a member of the National Academy of Engineering, said that the company is focusing on the 14 biggest challenges identified by the academy.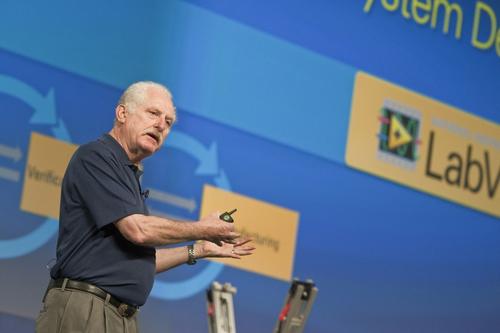 Of course, Miss America candidates often make similar pronouncements. But National Instruments is doing more than just talking about it. Its engineers have been involved in the projects at the CERN particle accelerator in Switzerland and at a fusion tokamak at the Max Plank Institute in Germany, as well as in numerous green energy collaborations.
To be sure, NI doesn't make tokamaks or particle colliders or green energy systems. But its engineers are often called upon to help design embedded control systems and test equipment for such projects. For them, it's a chance to be involved in projects that address society's greatest needs and to feel they're part of something that's bigger than they are.
At NIWeek, NI customers are demonstrating some of that collaborative technology. Star Systems, Inc., a startup dedicated to commercial space travel, showed off a prototype of its Hermes sub-orbital spacecraft, which used NI's LabView for test of flight control and propulsion systems. Similarly, Virginia Tech University demonstrated its Charli-L2 humanoid robot, capable of walking on two feet and playing soccer. And SpectraQuest displayed its wind turbine simulator, which employed LabView software and NI data acquisition hardware.
Ray Almgren, vice president of product marketing for core platforms at NI, cites such projects as a way stir the creative juices of the company's engineers. He said that NI encourages its employees to make tools for such projects and then celebrates the marquis applications when they're completed. "Dr. T [CEO James Truchard] goes around the company on a daily basis and talks about what's happening," he said.
NI executives believe that by encouraging that sense of a larger mission, they'll improve the company's ability to recruit and retain the best engineers.
"It's about what we can do to create a high performance culture," Almgren said."We have to find ways to tap into the passions of engineers."
Enumerating the challenges
Here's a list of Grand Challenges areas, as identified by the National Academy of Engineering:
Enhance virtual reality
Engineers tools of scientific discovery
Reverse engineer the human brain
Develop carbon sequestration methods
Advance personalized learning
Provide energy from fusion
Secure cyberspace
Provide access to clean water
Make solar energy economical
Prevent nuclear terror
Engineer better medicines
Restore and improve urban infrastructure
Advance health informatics
Manager the nitrogen cycle.