Using a hybrid design, a new cooling unit promises to cut energy consumption by a whopping 75% when it removes heat from electronic enclosures.
Displayed at last week's International Manufacturing Technology Show (IMTS 2016), the new industrial cooling unit draws heat away from dense electronic packages by employing a compressor-based technique and a heat pipe. By doing so, it can use as much or as little energy as it needs. "It knows when it doesn't need the compressor," Eric Corzine, product manager for climate control at Rittal Corp., told Design News. "If it doesn't, it will back off the compressor and the heat pipe will take over. But if the temperature in the enclosure is above the set point, the compressor will kick on."
Known as the Blue e+, the new unit is a departure from past systems because of the use of the heat pipe. The heat pipe, like all such systems, is passive. Refrigerant inside the pipe absorbs heat from the enclosure, changes state from liquid to gas, and migrates to a cold interface where a DC fan can draw the heat away.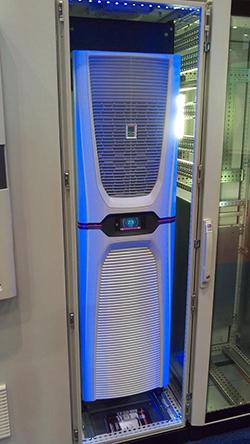 At the same time, however, the Blue e+ also incorporates an active compressor-based cooling system, which operates when the heat reaches a predetermined level. To further reduce energy consumption, the compressor is also capable of operating full-on, full-off, or anywhere in between. An onboard inverter enables the compressor and fan speeds to be adjusted via a voltage control.
"In previous air conditioning systems, the compressor is 100% on or it's off," Corzine said. "Here, it's variable."
Rittal claims the Blue e+ is six times more efficient than conventional systems at those times when it's in pure heat pipe mode. At a partial load of 65% and both systems operating in hybrid mode, it is said to be four times more efficient than conventional units.
READ MORE ABOUT ADVANCED MANUFACTURING:
Rittal believes the technology, if used broadly, would have a significant effect on the electricity grid. The company estimates that there are approximately two million enclosure-based cooling units drawing about 2 GW in European factories. Cutting that power consumption would result in cost savings and "climate protection," the company said in a press release.
Moreover, the technology has immediate effects for manufacturers, Corzine told us. "You get longer life out of your air conditioner because it's not working as hard," he said. "You get longer life out of your components and you also get less condensation. And, most important, you consume less energy."
Senior technical editor Chuck Murray has been writing about technology for 32 years. He joined Design News in 1987, and has covered electronics, automation, fluid power, and autos.