"It is impossible to make anything foolproof, because fools are so ingenious."
–- Robert Heinlein
The question of whether engineers could have foreseen the shortcut maintenance procedures that led to the crash of American Airlines Flight 191 in 1979 will probably linger for as long as there is an engineering profession.
The crash, still considered the worst disaster in American aviation history, occurred after a maintenance repair shop damaged a crucial part of a pylon, causing the engine to tear loose from the DC-10's left wing during takeoff. With its electrical and hydraulic lines severed, the plane climbed above Chicago's O'Hare Airport, rolled, and then nosedived into a nearby field.
Click on the photo below to see images from before and after the crash.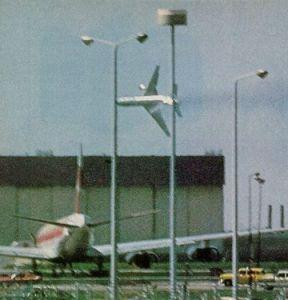 Even for seasoned investigators, the scene at the crash site was almost unbearable. Two-hundred-seventy-three people were killed. Bodies were scattered across the field. Flames were visible eight miles away. An assistant state's attorney at the site told the Chicago Tribune that he saw "kiddie books and briefcases and business papers strewn all over the place." A Catholic priest said he couldn't even administer last rites to the victims. The bodies were too hot to touch.
Months later, investigators from the National Transportation Safety Board found the cause: Mechanics at a maintenance site in Tulsa had taken a shortcut while removing the engines for servicing. In the process, they had cracked an aluminum fitting that held the engine. Over the next two months, the crack widened. On May 25, 1979, the engine broke loose.
"They were using a forklift to lift, reposition and place the engine back onto the airplane," Henry Petroski, a professor of history and civil engineering at Duke University, told Design News recently. "From what we now know, there was considerable force involved."
A simulation by the History Channel shows how the DC-10's engine and pylon tore away during takeoff:
Petroski, who studied the Flight 191 crash for his book, To Engineer Is Human, believes it's reasonable to ask whether engineers could have foreseen the problem. "Strictly speaking, engineers should always be able to put themselves in a position where they can imagine how something would fail," he told us. "That's how failure is avoided."
In the case of the DC-10s, however, Petroski acknowledges that would have been difficult. Even after maintenance crews damaged the pylon flange, no one noticed it. In his book, Petroski compared it to the damage around the ring-hole on a sheet of looseleaf paper. Yes, there was a tear, but not easily discerned.
In retrospect -– with full knowledge of the Chicago crash -- the damaged flanges were quickly spotted. All DC-10s were grounded and inspections revealed that others had cracked pylon assemblies, as well.
The question is whether engineers could have foreseen the servicing procedure that led to the cracked flanges. Although McDonnell-Douglas, the aircraft's manufacturer, had recommended removing the pylon and engine separately, crews decided to save time by removing and reattaching them together. To do that, they needed the forklift, which applied the force that broke the flanges. "Certainly, engineers needed to take into account that there would be some abuse," Petroski said. "But how much abuse is reasonable?"
Petroski doesn't blame designers for failing to imagine such a procedure. Still, he believes the Chicago crash offers a takeaway for engineers, no matter what they may be designing. "The general lesson for designers is that you have to expect the worst will happen," he said. "You can't make everything foolproof, but you have to try."
Related posts: