MetaCase, a leading provider of domain-specific modeling (DSM) environments, has recently released its newest version of software MetaEdit+ 5.0.
First, let's explain a little about DSM. DSM is a way to create code while reducing complexity and increasing abstraction. For instance, when developers were given the power of languages such as C or FORTRAN, productivity increased drastically. This was due to the higher level languages allowing much more convenient operands and programming techniques, while the compiler would still translate everything back into assembler when done. In a way, DSM attempts to do the same thing by making the process much more abstract. It allows users to create models and generates code from this data.
Now, MetaEdit+ is a commercially used program by many large companies. The DSM environment in MetaEdit is mostly divided into two different parts -- the workbench and the modeler. The workbench is where the designer develops the language. Concepts, rules, notations, and generators are created and parameters are set. The modeler is where you actually create your design and use all the modeling tools offered. Most companies will have their expert use and set the workbench while all the programmers work with the modeler.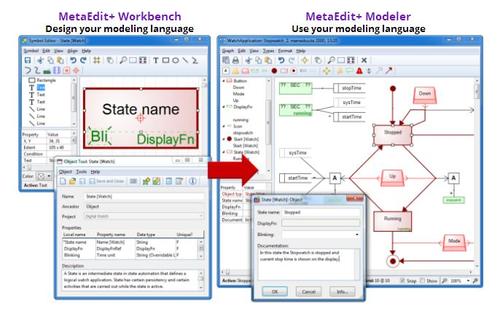 MetaEdit+ 5.0 improves upon and enhances their product by adding many useful features. The biggest feature software developers can find useful would be the integration and ability to work with currently used IDEs such as Eclipse or Visual Studio. Therefore, programmers can import existing libraries rather than having to rewrite them into a different language and have more control over their modeling language. Additionally, debugging can also be done simultaneously in the IDE and in the modeling environment. The new version also comes with improved code generators. This further improves upon the performance of the modeling language, while essentially eliminating the need for manual coding. Additional features include a new graphics engine, more intuitive control of models, and several example languages and code generators such as PLC, Android, and Windows mobile devices.
The program can be downloaded from MetaCase's website, or if you currently work with the program it can be upgraded, as well. If it works as well as they claim, companies may be shooting out software faster than ever.
Related posts: