Edison2, awarded the $5 million top prize in the 2010 Progressive Insurance Automotive XPRIZE competition, is heading into round two of development. Armed with a partnership with Altair ProductDesign (for engineering services related to structural optimization and suspension design, among other areas of innovation), a follow-up model is in the works.
The Edison2 Very Light Car (VLC) won accolades in the XPRIZE competition for its combination of light weight and low aerodynamic drag. Weighing 830 pounds, and with a drag coefficient of 0.160, the VLC recorded 110 MPGe (EPA combines) at the competition, using a 250 cc internal combustion engine. The electric version, the eVLC, also set records for electric car efficiency, with the four-passenger vehicle achieving 245 MPGe on the EPA five-cycle test.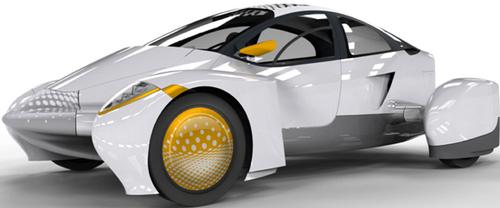 On the heels of that success, the Edison2 team has gone back to the drawing board to design and build a next-generation VLC 4.0 -- what it calls a completely new vehicle that employs much of the same architecture and efficiency features.
This newer model is being designed to meet regulatory requirements, so it will have traditional bells and whistles like integrated bumpers on wheel fairings, as well as production-car fit-and-finish, and features around safety, comfort, and handling.
According to the Edison2 Website:
The sleek new shape of the next-generation VLC is an aerodynamic improvement over the angular XPRIZE design. Preliminary testing at the Virginia Tech Wind Tunnel showed us that the smoother curves of the new design can help offset the drag associated with requirements such as bumpers and mirrors. The new shape also improves driver visibility. Larger wheels allow more in-wheel suspension travel, improving ride quality. The interior will have simple but sophisticated fit-and-finish and a lower doorsill. With an eye toward eventual production, the chassis is now aluminum sheet metal instead of tubular steel.
The partnership with Altair ProductDesign will help usher in those improvements. Altair's simulation-driven design method and focus on optimization and lightweight design is aligned with Edison2's strategy.
"Altair's core belief is that design should be inspired by physics, using simulation to drive design, and CAD as the tools to document and capture the design," Mike Heskitt, COO of Altair ProductDesign, told me in an interview. Altair is conducting a three-phase engineering study targeting suspension sensitivity, vehicle impact strategy, and structural optimization.
The company will also provide CAE optimization, crash-safety engineers, multi-body dynamics engineers, subject matter experts, and senior technical specialists to assist the Edison2 team in executing each of the study's three phases and to accelerate the prototype of the VLC 4.0.
In addition to its work with Altair ProductDesign, the Edison2 team also collaborated with Local Motors' Forge on the VLC 4.0's design. Specifically, Edison2 sponsored a contest on Forge, a community where automotive designs are crowdsourced, that encouraged members to tap Siemens PLM Software's Solid Edge Design1 to design a door handle mechanism for the lightweight vehicle.
Related posts: