Clearly, these concerns have led to much slower adoption (and, frankly, far fewer available mobile design tool apps) within the engineering space compared to the consumer and general business segment. According to some reports, apps are fast becoming consumers' preferred mode of interaction, even surpassing time spent browsing the Web. A recent report by the mobile analytics provider Flurry revealed that the average consumer spends 9 percent more time using mobile apps than on the Internet, mostly partaking in games, social networking, news, and entertainment.
At the same time, other studies have found there is a relatively short shelf life for the average mobile app -- users typically engage in around 20 sessions with an app before abandoning it and moving on to something new. That statistic, experts say, points out the relatively short attention span for these tools and the perception -- whether warranted or not -- that most available apps are more of a novelty, as opposed to a substantive, business-related productivity enhancer.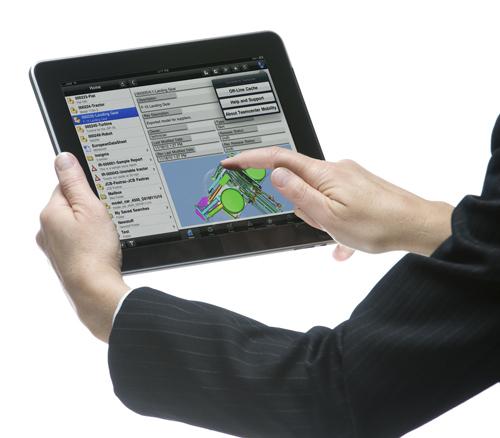 Taking their lead from these early indications, design tool vendors have been cautiously approaching the mobile app market, heartened by what they say is steady interest among engineers, if not yet widespread adoption. "Demand is absolutely growing across all industries," says Shanna Tellerman, product line manager for cloud products at Autodesk, one of the design tool vendors out in front with a mobile strategy. "Whether you're looking at the architecture, engineering, or manufacturing industry, there are people working with people who are on site in various locations, and everyone needs access to shared data."
With that picture in mind, Autodesk is steadily putting together a pretty robust cloud and mobile tool strategy. Autodesk Cloud, unveiled in October, is a collection of up to a dozen Web services that allow users to collaborate on models via Web browsers or mobile devices, in addition to offloading processor-intensive tasks like rendering and simulation to the cloud to take advantage of its scalability and high-performance benefits.