PCB layout
Circuit design is finished after a successful simulation in Multisim or just using a manufacturer's examples or application notes. A physical board needs to be created and tested. Laying out a Printed Circuit Board (PCB) is not an intimidating, impossible option for the novice. Software is there to make the build as easy as possible.
Like Multisim, and other circuit simulation tools, PCB design software often comes packing almost every single electrical component that has a SPICE model. The industry standard, OrCAD is worth a trial. However, for this section I picked CADSoft's Eagle CAD, a free PCB program. As the name indicates, designing a circuit is just like drawing parts in a CAD-like interface. In fact, it will look quite similar to Multisim or even SolidWorks. This should make for an easy transition from circuit concept to PCB.
Lucky for those adopting Eagle CAD today, the tutorials are abundant. Everyone from affiliate sites to hacking communities has put together video series that can handhold an engineer to their first PCB in minutes. A YouTube search for "eagle cad" should do the trick. After one tutorial, drawing a simple schematic will be a hurdle pushed to the side.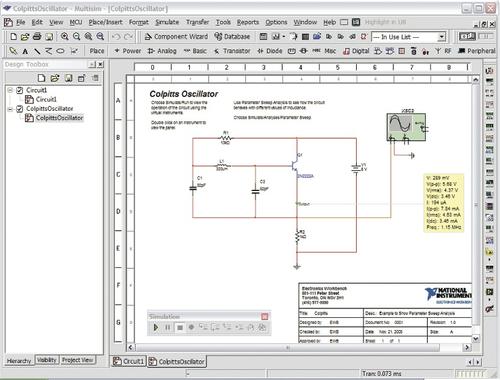 The tutorials will quickly advance to the PCB layout side of Eagle CAD since this is ultimately what the applications is meant to do for the user. One click will move from the circuit design to the PCB layout. Component placement on the PCB will have an effect of operation. Don't worry -- simple circuits have a tendency to work no matter how the parts are placed. However, they may not work optimally. For the ambitious, take a look at the datasheets for the various components. Manufacturers will offer, in detail, the guidelines for PCB placement. Microcontrollers often have a few strict rules. The suggestions will often say a capacitor or an oscillation crystal can be no further than "x" from the processor leads. Different license levels of Eagle CAD will offer automatic features, like laying out the electrical traces between component leads. However, like CAD, simply drawing lines from the component pins to their matching end-points will complete traces, almost like connecting the dots.
Flowcode Not every circuit is easily conquered by discrete components. Most of the time a microcontroller (MCU) is the best way to go. Although a microcontroller is an easier or cheaper option, code has to be written. Programming is not everyone's forte. One of the most intimidating aspects of engineering can be seeing 10,000 lines of the C or assembly programming language. However, writing code into the wee hours of the night after work is not necessary to break this gem out of the ever-growing bag of skills. Programs can be written visually for almost any microcontroller out there.
Matrix Multimedia's Flowcode will write software for PIC, AVR, and 32-bit ARM microcontrollers without an engineer placing one line of code. Flowcode builds programs in a graphical sense, much like a living flowchart. Once the flowchart is constructed it can simulate the program in any time frame set. If it simulates properly it should also function in real life. Of course, not following manufacturer's requirements for component placement for the processor might have an effect on its operation. If it's by the book, it will work.
If microcontrollers or coding was not a big aspect of the day job, but then suddenly starts becoming one, Flowcode is only a stopgap solution. Learning more about the language or processor in question should be a focus. Nothing is more covered than microcontroller programming and development.
Remember, a microcontroller still needs a power supply. So, defer to the circuit design and simulation section. Lay out the components in Multisim and the PCB in Eagle CAD. Design an enclosure in SolidWorks and 3D print it.
Microcontrollers are fun and their possibilities are endless. Every electrical component supplier will have evaluation and demo boards of many processors. Grab any PIC dev board and put Flowcode to use. Or even use the PCB created from Eagle CAD at this step. See the system come to life. Keep in mind: Code can change, PCBs cannot.
Related posts: