Integration to other enterprise systems has always been an Achilles Heel of Product Lifecycle Management (PLM) -- after all, the whole premise of PLM is to serve as a central repository and workflow hub for all product-related information across the enterprise.
The challenge is no different in the cloud world, despite the promise of faster-to-deploy and more accessible PLM. With that in mind, Autodesk announced a core component for its nascent cloud-based Autodesk PLM 360 system -- a series of integration capabilities to sync up the platform with other on-premises and cloud-based business applications.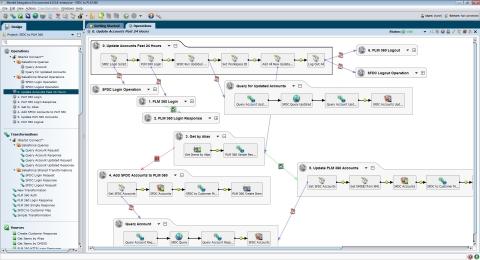 The new Autodesk PLM 360 Connect suite of tools, in part made possible via a partnership with Jitterbit, a provider of application and data integration software, is designed to help customers integrate their PLM and other cloud and enterprise business applications into one, seamless environment. Jitterbit provides a standard business application platform through which virtually any major application can integrate with ease and simplicity. The standards-based platform is currently in use at large entities like NASA, and Autodesk decided to partner with an integration expert to give customers piece of mind when embarking on potentially complex PLM implementations, according to Brian Roepke, Autodesk's senior manager for PLM Product Management.
The idea behind the integration platform is to allow engineering and other departments to move product-related data across multiple systems while also creating closed-loop communications and seamless business processes that will deliver feedback to decision-makers whenever and wherever they need it throughout the design process.
"The need to make certain the right data is available at the right time to the right individual or group that needs it is what makes the promise of PLM so attractive," Roepke told us. "In many ways, a cloud PLM environment by its 'ubiquitous' nature is better suited to being well integrated with multiple, disparate types of applications than a premises-based PLM environment." For instance, in the cloud, users can essentially "reach into" whatever business application is at issue, pull the data, and transfer, combine, or connect it to data that is pulled from another, Roepke explained. A standards-based platform such as the one offered by Jitterbit allows for both cloud-based and premises-based business applications to be accessed with ease in equal measure.
The Autodesk PLM 360 Connect tools deliver three levels of integration: simple import/export capabilities for flat file formats like text files and spreadsheets; integration using the Jitterbit solution; or leveraging the Autodesk PLM 360 application programming interfaces (APIs) to design custom solutions or build connections using other enterprise applications interfaces. The simple import/export capabilities provide baseline integration functionality for quickly tapping into large amounts of information without dealing with the error-prone process of manually re-keying data into myriad systems.
The alliance with Jitterbit takes the integration capabilities to the next level. Via a drag-and-drop graphical interface, users can map connections between both on-premises and cloud-based systems without coding and without invention from IT, facilitating the consolidation of process-specific information from multiple business sources and helping to achieve a holistic view of product data across the enterprise, Autodesk officials explained. For the highest level of integration and business process integration, users can tap Autodesk PLM 360's APIs to create custom point-to-point integrations with legacy systems and other enterprise platforms to serve as part of larger ecosystem.
Related posts: