A recent McKinsey study, "The rise of the networked enterprise: Web 2.0 finds its payday," found that fully networked enterprises are more likely to be market leaders, gain marketshare, or have higher operating margins than companies that are not fully employing Web 2.0 technologies. Of the organizations surveyed by McKinsey that are deploying Web 2.0 functionality, 77 percent are gaining faster access to knowledge, 60 percent are reducing communications costs, and 52 percent are quicker to seek out internal experts.
Chris Williams, president and CEO of Vuuch, chalks up the confusion in the engineering ranks to groups looking at social product development through a consumer lens, not a product development lens. He told us blending social capabilities into traditional design platforms or using a social platform like Vuuch alongside product data management or CAD tools mimics more familiar ways of communication and brings efficiencies to the type of ad hoc exchanges typically handled through email or manual processes.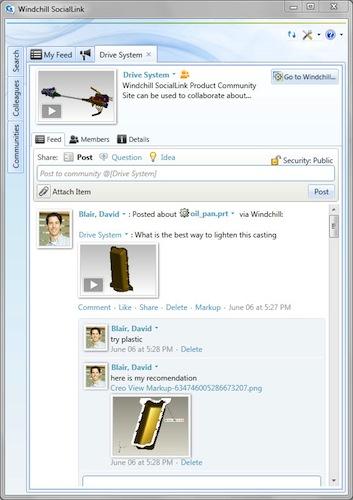 "Product development is already social -- Vuuch is not a social tool, but rather a product development tool that uses social concepts and technology… and is a better platform than email for those discussions," Williams said.
Consider the design and manufacturing of a simple coffee cup. There are issues to be resolved around requirements, the design of the cup, its label and packaging, the manufacturing processes -- and the list goes on. Williams said those interactions typically take place, not in traditional product data management (PDM) or PLM systems, but in email, where there is no tracking and little ability to keep everyone on the team abreast of the latest changes.
"Email cuts across boundaries, which is good, but there is little ability to understand where a project stands," he said. "Communication is one of the top problems for engineering teams today, because it's a time killer. The problem with email is it's completely unorganized, there's no structure, and it fills everyone's inbox. Vuuch can help keep [all this communication] organized."
Settles is finding that to be the case. The 100-person Ace Manufacturing, which makes clutch parts and components, had long struggled with keeping engineers, production planners, and sales executives on the same page as projects progressed and design changes were made. "Communications never crossed boundaries, and that seems silly for a small company when someone sits 100 yards away, but it happened," he said. With Vuuch, everything related to a project is in the same place. "I don't have to search through 75 emails to find something -- everything is in one place, and everyone is kept in the loop."