Engineers are hardly knocking down doors for mobile design tools, but responses to our coverage of the still-emerging apps category has shown a consistent, albeit slightly hesitant, interest. (See: Do Engineers Have Appetite for Mobile Apps?)
Yet while most of the early design tool apps have been for Apple iOS devices, there's a sign that some major Android releases are just around the corner. Late last month, Autodesk put out a call for beta testers to help start troubleshooting a working version of its mobile Design Review program for Android devices. The app, which lets users read, write, and markup DWG files, was released in mid-2011 for the Apple iPhone and iPad. Its release gave engineers a tool to view and collaborate on 2D and 3D drawings wherever they are in the field, unencumbered from the constraints of a laptop.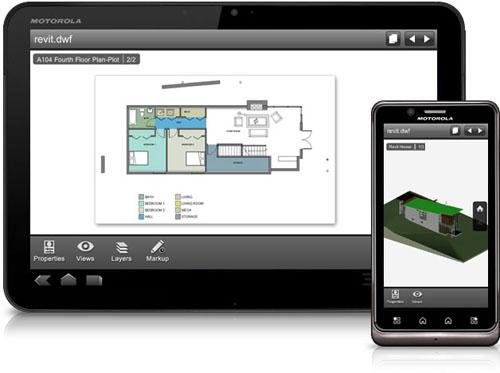 Most of the vendors getting their feet wet with mobile design tool apps have come out with Apple iOS versions first, with promises of similar offerings for Android platforms over time. (See: 11 Top iPad Engineering Apps.) It's not so much that there's greater demand for mobile design tool apps on Apple platforms, rather it's that it's just so much easier to release for Apple first given that there are only two variants of iOS -- for iPhones and iPads -- versus the dozens of different permutations for Android.
Shanna Tellerman, Autodesk's product line manager for cloud services and applications, confirmed for us the challenge of testing for Android, which in part explains Autodesk's concerted effort to enlist its user base to help with the best test process. "The largest challenge with Android is the range of devices," she told us:
When designing an app, you need to take into consideration the different hardware, including details like the difference in screen resolutions. Customers have the same expectations that iOS customers do -- that the apps should work and should work well. In reality, Android apps are very hard to design to work well on every possible device. Specifically, for a design application like Design Review mobile, certain Android hardware is better equipped to handle the kinds of data our customers will be working with than others.
Tellerman says an Android version of Design Review mobile was the top requested feature among the Autodesk user community, which cemented the company's decision to reach out to users to assist in the beta test process. She says the beta program will give Autodesk specific feedback on features in the Android version, but will also allow users to report on how well the app performs on their particular Android devices.
Tellerman declined to specify when the final version of Design Review mobile for Android would be released. She says her company plans to keep the iOS and Android mobile offerings comparable for the time being, but she didn't rule out offering an app on one platform and not the other if Autodesk were able to take advantage of a specific capability on a specific platform.
In addition to this latest Android app, Autodesk also offers Android versions of AutoCAD WS, Inventor Publisher, SketchBook, and its Pixlr mobile apps.
Further Reading: