Even though 3D printers act as if they do all the work, the current methods require lots of human labor, especially after the printer has made the seed part. Milling, trimming excess, drilling holes, and adding wires still must be done by hand. As a result, mass manufacturing or DIY projects can still be very time consuming and laborious, even with a 3D printer.
iRobot Corp. sees this problem impeding the future of 3D printers and automated manufacturing, so it has filed a patent application for a fully automated robotic 3D printer for manufacturing. This type of system could finish printed pieces without human intervention. It could also be equipped to perform quality control, reducing many risks of using printed parts such as fasteners that often cause failures.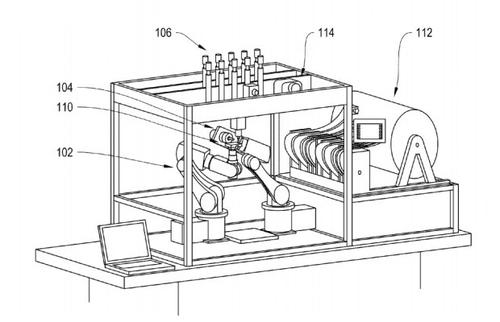 The printer would use two robotic arms (a primary one and a secondary one) for certain duties during the manufacturing process. These six-axis manipulators would move parts around extruders or to toolheads hanging from above. These toolheads would handle additive or subtractive manufacturing, milling, drilling, and other processes to produce a final product.
The main purpose of the primary arm is to support the piece being printed under an FDM or a robocasting extruder and then move it under different toolheads. The secondary arm could help pick and place components, stress test hardware, add wiring, and collaborate with the primary arm in orienting parts relative to the toolheads.
According to the patent application, users would be able to make objects from ceramics, ABS, polycarbonate, silicon rubbers, urethane rubbers, plastics, and composites. They could even use conducting metals with low melting temperatures (like gallium) instead of wires.
To improve the quality of printed parts, iRobot proposed equipping the printer with scanners or cameras that could inspect the parts for defects. The two arms would be able to move the finished piece across a laser scanner or camera that could compare object dimensions to those of a CAD drawing, ensuring compliance with specifications. These tools could produce data for documentation and improving the printing steps involved in manufacturing a piece. Sensors could also make sure electrical items are functioning properly and safely.
Since the printer described in the iRobot application would automate the entire printing process, it could make 3D printers more attractive for factories mass-producing parts for sale or for repairing in-house machines. A fully automated process could also be ideal for entrepreneurs trying to print their own finished parts.
Of course, the military loves to get its hands on innovations such as these. In fact, the defense contractor Raytheon worked alongside iRobot on this project.
No official announcement has been made about when we might see this printer being sold commercially. But the patent application suggests prototypes are being built.
Related posts: