Autodesk is putting its money where its mouth is when it comes to cloud-based design tool services.
At its recent Autodesk University 2011 conference held in Las Vegas, the company took the wraps off of its first-ever PLM offering: Autodesk 360 for PLM, an approach that combines a software-as-a-service component with its traditional on-premises product data management (PDM) platform known as Vault. The hybrid approach is intended to address manufacturing customers' mounting demand for an easier to deploy and less expensive alternative to traditional, monolithic PLM systems while, at the same time, addressing the security concerns that typically surround cloud-based deployments.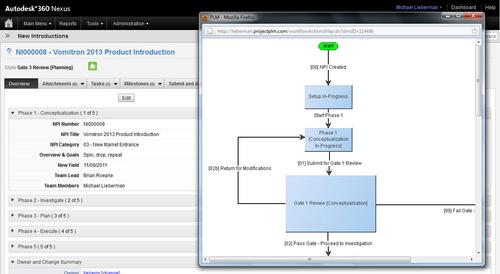 "We don't believe the market is asking for PDM in the cloud -- pushing files back and forth between a CAD tool and a cloud tool is not a performance system, and most companies prefer to keep their CAD tools behind the firewall," Steve Bodnar, Autodesk's vice president of PLM and data management, told us. "We're putting things that make sense in the cloud and leaving things that make sense behind the firewall whether it's due to concerns around performance or a sense of security."
It seems like a reasonable approach and one that's bound to garner Autodesk some traction -- that is, if the components of the Autodesk 360 for PLM platform can stand up to the on-premises competition. The new PLM offering is part of Autodesk 360, what Autodesk is referring to as collaboration, data, and lifecycle management tools for both PLM and its Building Information Management (BIM) line. It is built on the Autodesk Cloud foundation, a collection of Web services unveiled in October.