The Objet1000 is Objet Ltd.'s largest printer to date and features a 1,000mm x 800mm x 500mm build envelope along with the company's renowned Connex multi-material capability.
This printer, which was displayed at Euromold 2012, is big and means business; it's not your average hobbyist printer that you would find in your neighbor's garage. Measuring about the size of a compact car, the Objet1000 was designed to be used within industries such as automotive, defense, medical, or any other sector that may benefit from large, industrial size, 1:1 precise prototypes.
It uses the effective and efficient technology previously used by Objet. Utilizing its Connex multi-material capability, the printer can simultaneously print two different materials. Additionally, the company offers more than 100 different materials, which can all be used to print products with different properties. As a result, designers and engineers have the capability to create materials with unique thermal or mechanical properties or materials that can bend like a rubber.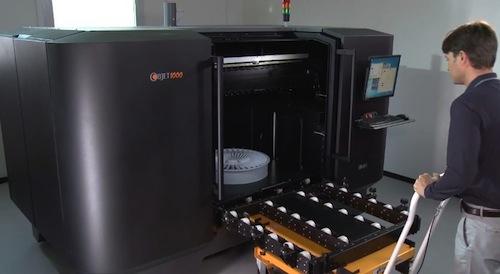 Objet technology also features the industry's highest resolution, which really sets it apart from anything else. Materials printed from the machine are based on a 16 micron layering process, whereas Makerbot's Replicator 2 can achieve a quality within 100 micron layers. Formlabs recently released a printer using a similar printing technology as Objet that can print as precise as 25 microns. However, Makerbot and Formlabs alike are both designed to bring 3D printing home and cannot even begin to compare to the size Objet1000 can work with.
Concept modeling for companies can be a lengthy and expensive process. The Objet1000 would be a good investment for many companies. Some companies send their designs out to third parties and have to wait weeks before they can get their prototype. This wastes time and exposes their designs to others, which companies can be wary about. In addition, some companies may print many different pieces to make up a larger part. This can be less effective and result in a less accurate model. Objet also provides a return on investment (ROI) calculator to see what is right for the customer. After running the calculator, it seems my ROI will be 16 months for only a handful of small projects.
As 3D printing starts gaining momentum, more industries will begin to equip their research facilities with high-quality 3D printers. They are perfect for reducing concept build times and can save companies lots of money by eliminating third parties. The first printers available will be shipped starting in the second quarter of 2013, with a wider availability opening up in the second half of 2013. For those lucky enough to work with the Objet1000, the possibilities are endless. Though, I am sure the $40,000-plus USD price tag will keep it out of reach for most. Or only out of reach for 16 months, according to my ROI.
Related posts: