A business deal has been made to form an unexpected partnership of two giants in their respective fields. Autodesk, one of the leading developers and sellers of CAD software, is teaming up with the fast-action, highly prestigious IZOD IndyCar Series in a three-year deal meant to expose and familiarize all of the IndyCar race teams with the entire Autodesk collection of software.
IndyCar has used Autodesk's AutoCAD software to design garage layouts for strategic unloading and loading at different venues around the world. But IndyCar's engineers have never used AutoCAD near its full potential. From a closer look, these two companies may actually make a fine duo. IndyCar plans to use AutoCAD for its versatility and huge array of tools in order to allow IndyCar teams to create faster, safer, and more innovative cars.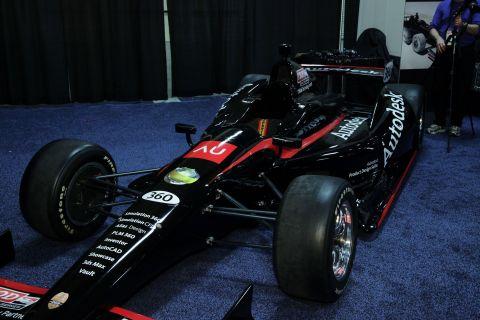 AutoCAD is already used by the racing organization to plan and draw layouts for sled crash tests used to make IndyCar open-wheel racing safer. The Autodesk Product Design Suite will be perfect for prototyping and simulating different chassis designs. It will also allow them to experiment with different layouts for the racecar's systems in order to improve aerodynamics. The software comes with tools designed to work with different materials like sheet metal and plastics. Welds, structural framework and harnesses, and cables are easily incorporated into designs, as well. IndyCar says it plans to implement any innovation created from the software into all cars, as standards, to produce faster but fair and safe racing.
Autodesk Simulation 360 puts the designed parts through many extensive simulations. These include applications involving cyclical loading and vibrations, as well as static or dynamic loading. Autodesk's Computational Fluid Dynamics can simulate the movement of heat, liquids, and gases to see how they interact with surrounding mechanisms and components. They can also study pressure rises or drops associated with different flows through pipes or over surfaces, or how HVAC can be used to help drivers. Simulation 360 can test these hypothetical, virtual components before they are manufactured and implemented.
Using Autodesk, IndyCar will be able to cut costs in virtual prototyping and cut down the time required to manufacture parts. IndyCar teams are always moving fast to different venues all over the world. Any team's simulation or design, completed or still in development, can now be stored and managed on the cloud using Autodesk PML 360 accounts. Autodesk PLM (product lifecycle management) allows access for editing, sharing, and collaborating from anywhere through the web. This service is customizable but includes an intuitive browser, so anyone familiar with browsing the Internet can manage.
As part of the contract, Autodesk will give IndyCar engineers and operations groups all of the mentioned software, as well as the Autodesk Inventor 3D CAD software, so each team could even use the Entertainment Creation software to produce animations to promote themselves and their gear.
The racecar series has always relied on cutting-edge technology to innovate and improve performance to grow in popularity. They introduced the rearview mirror at the first Indy 500 in 1911. On the other hand, Autodesk has spent nearly 30 years developing CAD software that has been widely adopted by the manufacturing and automotive industries. Both companies have as much experience with their respective technologies as any competitors, and this partnership plans to bring their products and services to wider audiences in the short- and long-term.
Perhaps next we can expect computer geeks to become best friends with car buffs? Maybe not, but it will not be too long before more sports realize physics and computer-aided design may be more important than they thought.
Related posts: