If you want a glimpse into the future and an innovative way for products to come to market, consider this latest example of a low-cost 3D printer.
Formlabs, a startup launched by a group of researchers from the MIT Media Lab, has unveiled its Form 1, which it calls a desktop 3D printer for the "prosumer" (think a blend of professional and consumer). It offers professional-quality resolution at a price individual engineers and designers can afford.
What makes the Form 1 interesting, in addition to its price point, sleek packaging, and professional quality printing, is the way it's coming to market. To finance full production, it's being offered on the crowdfunding site Kickstarter.
Click on the image below for a slideshow on the Form 1 and what it can do.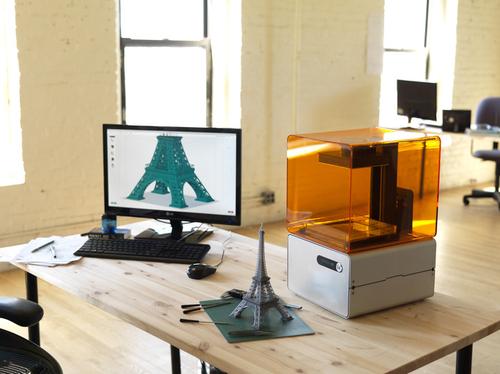 For those unfamiliar with Kickstarter, it's a funding platform for innovative ideas ranging from 3D printers to games, music, and films. It uses an all-or-nothing funding strategy. The people behind an idea showcase it to the community and set specific funding and deadline goals. If the goals are met or exceeded, backers are charged, and the idea is financed. If the goals are not met, no one is charged, and the people behind the idea move on to Plan B.
Formlabs seems to be kicking some Kickstarter you know what. It set a funding goal of $100,000 and a deadline of Oct. 26. The Form 1 has already gotten 942 backers, who have pledged a whopping $1.3 million and change to help this 3D printer see the light of day.
So what's so special about the Form 1? Instead of targeting the maker market like a lot of 3D printer companies, Formlabs is taking aim at professional engineers with an "end-to-end" printing package that individuals can afford. Instead of FDM or plastic extrusion, the Form 1 employs stereolithography (SL) technology, printing layers as thin as 25 microns (0.001 inches) with details as small as 300 microns (0.012 inches) in a build volume of 125mm x 125mm x 165mm (4.9 inches x 4.9 inches x 6.5 inches). Its founders say SL, a resin-based printing process, is ideal for detailed and complex parts. The resin is engineered in-house with a neutral matte gray color, but over time, Formlabs plans to develop and sell an entire palette of materials for the unit.
The 3D printer hardware comes with the Form software, which simplifies the process of importing .STL models and sending jobs to the printer. To complete the package, there's the Form Finish Kit, a finishing tray and set of accessories to help users finish off parts and address the cleanliness complaints that often dog 3D printers.
Related posts: