While the team members rolled up their sleeves with CAD tools from the get-go, an on-site disaster with their 2008 catapult entry (the machine broke apart at the competition) prompted them to go back to the drawing board and design a next-generation catapult that would not be subject to the same structural failures.
"Based on that lesson, which was embarrassing, we wanted to see what we could do," Mollenhauer told us. What they did was come up with several designs for the catapult, which encompasses a siege engine that relies on torsion power to hurl the pumpkins, using simulation capabilities to understand how the machine would perform under real-world operating conditions.
SolidWorks Simulation was used to virtually test weights, motion, clearances, stress, and dynamic analysis, Mollenhauer says. "We really put simulation into play, doing fit checking, dynamic motion testing, and stress testing," he explained.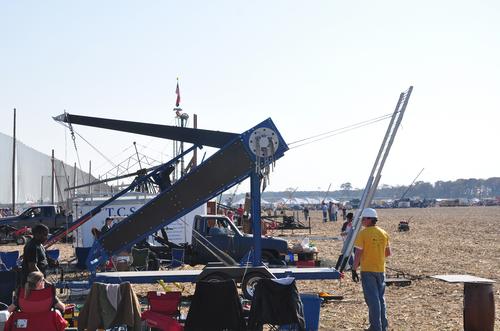 The team also used SolidWorks Simulation to verify the materials -- a combination of composites, steel, and aluminum -- since that was a sore spot with its 2008 disaster. Based on Mollenhauer's knowledge of composites (that's his day job, after all), the team built the arm out of carbon fiber. "It's the only material you can use to build something this lightweight and strong," he said.
Now heading into this week's competition, Mollenhauer feels pretty confident about the further refinements made to the Phoenix catapult that the team worked on this year. Based on last year's performance where the machine performed well, but the sling design was faulty, the team revamped its sling design, again using SolidWorks Simulation to verify the changes.
"Our goal this year is to break 3,000 feet," Mollenhauer said. That's quite a chunkin for an eight-pound pumpkin.