Syncing up with CAD
Thanks to a number of emerging technologies, including relatively inexpensive workstation horsepower, deeper integration with familiar tools like CAD, and the advent of cloud computing, simulation software vendors seem armed with a better plan to make analysis-led design more accessible to mainstream engineers.
Five years ago, a specialist might tie up a workstation for hours to crank out a single simulation for determining the optimal load balance on a structure or part. Today, thanks to multicore processors, multithreading capabilities, and increasing use of graphics processing units in both desktop and laptop systems, those results are available in a matter of minutes, helping reduce iterative development cycles. This opens the door to more frequent use of simulation, making it far less cumbersome to integrate analysis earlier and throughout the design process.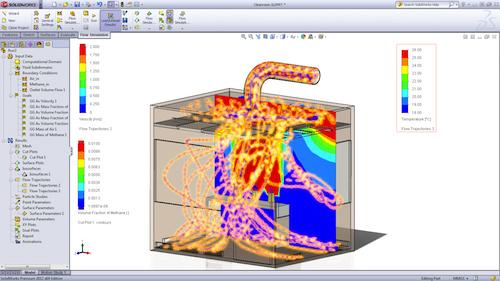 John Buchowski, vice president of product management at PTC, told us cultural shifts have also advanced the cause as more powerful simulation capabilities get folded into 3D CAD tools and, as a result, get put in the hands of the engineers responsible for the design work.
"One of the big changes is that more engineers are actually doing engineering work in the CAD tool," he said. "That's feeding a need to give people actually doing the product design in CAD the capability to evaluate the performance and the ability of their design to satisfy functional requirements, rather than relying on an outside resource or a physical prototype."
According to Buchowski, giving a CAD-proficient engineer a simplified version of a traditional FEA or CFD tool doesn't go far enough in making simulation mainstream; the engineer still needs to know the tool to get an accurate answer. "They need to choose the right element formation, know when to use linear tests, and all the knowledge around the tool specifically," he said. "On top of that, they still need to be a good engineer and know what kind of results they are looking for. We believe the idea is to make the [simulation capabilities] more robust and make it easier for design engineers to get accurate results."
To achieve that goal, Creo Simulate has been designed with more powerful solvers that add a higher degree of math definition to the model, so engineers or designers can get a predefined answer more quickly, Buchowski said. The tool has also been designed to lead engineers through the simulation process in much the same way they would set up simulation in a physical environment. "The user has to be a good, smart mechanical engineer, but they no longer have to be an expert FEA driver."