The general public's comfort with 3D environments, driven by the expansive online gaming culture and the recent push toward 3D entertainment, has definitely lit a fire under design tool vendors.
"If you look at games, there are massive amounts of information, but even a child can easily engage with it," Kaustuv DeBiswas, one of the co-founders of Sunglass, told us. His startup (subject of a previous blog) is readying a Web-based design service aimed at fostering collaboration around 3D product data. "The amount of information a user engages with in a game is far more than what a traditional CAD system allows you to do, and there's plenty to learn from that. One of the big things is real-time feedback."
DeBiswas fully expects many of those concepts around multi-player gaming, like real-time feedback and 3D visualization support for a cooperative group, to influence the development of his company.
"Sunglass aims to play a part in taking what was traditionally an individual desktop experience only for experts out into the public domain similar to what YouTube did for video -- that is, allowing anyone who has an idea about a product to express it, share it, and work with a cooperative," he said. "Design is not just about a single act in designing something, but also a medium in which we think. 3D will soon become the everyday way we think about things."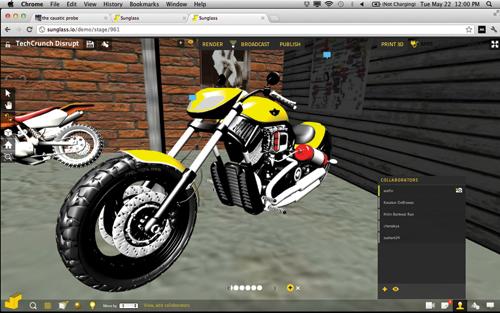 Dassault Systemes is certainly taking that mission to heart. The CAD and PLM company has recast its efforts for PLM 2.0 around what it bills the 3D Experience, or the concept of looking at 3D data in a more comprehensive way. "We're not talking about sending more 3D information, but more information around 3D," said Garth Coleman, senior director of marketing for 3DVIA, Dassault's brand that encompasses a cloud-based community and a suite of 3D authoring tools.
Visualization capabilities have been around for a long time, but Coleman told us the technology wasn't evolved enough previously, and people weren't ready for it. "3D is out there and accepted… and there's a lot of convergence with a lot of the pieces that make it the right time and market to start to flow 3D data out to a broader audience."
A 3D model may provide a sense of how something looks, but Dassault's 3D Experience philosophy goes further, potentially presenting that model in an environment that might depict how you would service, sell, support, operate, or use a product through simulation.
"There's a difference between information and communication, and we're all about getting information across in a more meaningful and effective way," Coleman said. Products like 3DVIA Composer for creating product documentation, 3DVIA Shape for creating 3D content, and 3DVIA Scenes for creating design walkthroughs work in tandem with other Dassault products like SIMULIA simulation technology and CATIA 3D CAD. Together, the offerings enable engineering groups to create more realistic digital mockups of products while placing them within the context of a multidimensional experience, so R&D participants and potential users get something that transcends a simple visualization of how a potential design appears.