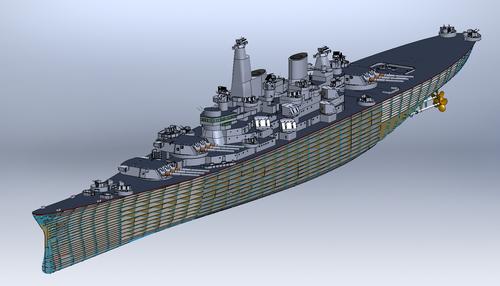 The full-scale CAD model is then being used to produce a 1/32nd scale physical replica, which translates into a 28-foot-long steel ship that will feature the ship's complete functionality, including radar and fully operational scaled weapons. McKinney is also working with partners who are providing stereolithography services to create realistic 3D fittings based on the SolidWorks model, as well as to add a voice command telemetry (VCT) system that will allow presenters to give full military orders to the vessel and receive an immediate response.
One of the more interesting aspects of McKinney's project is the idea of leveraging a full-scale CAD model of a complex assembly like a plane or ship to create a representative model form, according to Victor Johnson, a partner on the project and a former aerospace engineer who worked on the booster system for the Apollo spacecraft along with the Space Shuttle program.
"If you're going to make a design modification to a vehicle, whether it's a ship or airplane, instead of building and testing the final result, which is very expensive, putting it into a representative model form can reduce overall costs immensely," Johnson says.
In addition to the Missouri, McKinney and his colleagues are hoping to create operational replicas of all the Iowa Class Battleships, including the Iowa, the New Jersey, and the Wisconsin.
Further Reading: