Advanced technologies such as Dassault Systemes' 3DEXPERIENCE Platform are enabling engineers to preview their imaginative designs through 3D virtual experiences that accurately simulate real-world environments. One may think of this as a way to precisely analyze a creator's vision in the real world before it is fully realized. Additionally, this form of technology is not limited in its use to any specific industry -- it is up for grabs to anyone willing to invest in the realization of a far-fetched dream.
"Mr. and Mrs. Dream" is a technologically enhanced dance performance that ingeniously makes use of Dassault Systemes' topnotch 3D solutions. The performance follows the story of two characters, played by Marie-Claude Pietragalla and Julien Derouault, who have escaped the imagination of the absurdist fiction playwright Eugene Ionesco. The characters jump in and out of different settings that take place in many of Ionesco's plays; thus, the alternation from one fantastical environment to the next required the use of immersive 3D technology to fully capture the show's true essence.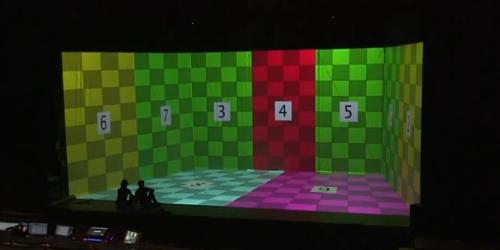 Dassault was well-prepared for the challenge, having used immersive 3D technology to engender accurate virtual reality environments in the past. This time, however, the focus was not on previewing the design of an aircraft or automobile, but rather on the production of changing environments that the performance's fictional characters can interact with all the while managing to elicit a deep emotional response from an audience.
The mobile 3D stage, which Dassault claims can easily be replicated in any venue, incorporates a shoe-box design that draws onlookers into a virtual world. This unique 3D platform provides 200 square meters of image projection behind, below, and to either side of the on-stage performers. Having already been a part of Dassault's 3DEXPERIENCE Platform, the stage was adapted to fit the application exceptionally well.
The convergence of such groundbreaking technologies with captivating art projects is thus likely to further inspire real-world innovation as the ability to manifest the extraordinary becomes more apparent. In this case, a play, which focuses on the immersion in a fictional dream world, is representative of the simulation portion of Dassault's revolutionary product development process. As Mehdi Tayoubi explains, the words "Dream Possible" resonate well with Dassault's own vision: to create a better world through the realization of dreams with the right tools in place.
Related posts: