The extensive capability of 3D printing has already proven to help the DIYers of the world print out their own plastic designs, aid an architect's plan to print out an entire building layer by layer, and even provided a DIY prosthetic hand for a boy in South Africa. Now, 3D printing is branching into controversial areas and giving stem cells a shot.
Researches over at the Herlot-Watt University in Edinburg have successfully 3D-printed embryonic stem cells for the first time ever. This new bio-printing technology has the ability to eliminate the need for organ transplants. The artificially-printed tissue could also eradicate animal testing and the need to extract embryonic stem cells by providing labs with a ready supply of the material.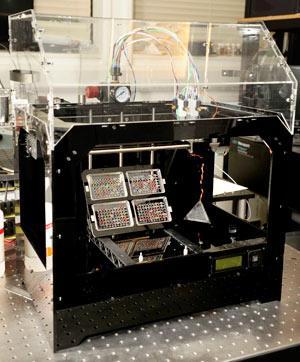 Embryonic stem cells are originally derived from the blastocyst a few days after fertilization and are pluripotent -- meaning they can replicate almost any tissue in the human body. The process used to artificially create these cells is different from previous attempts that produced tough, 2D stem cells. Dr. Wenmiao Shu modified the valve from a printer nozzle so that blobs of these cells were produced rather than the usual thin layer. Thus, more accurate human tissue cultures can be used to aid with toxicity testing and in-vitro drug development.
Organovo, a 3D human tissue manufacturer in San Diego, Calif., has already partnered with Autodesk to develop the first software for 3D bioprinting to be used in conjunction with the NovoGen MMX printer.
Both entities hope that one day this new technology will create a viable source for 3D-printed organs. This would be a miraculous breakthrough that can potentially eliminate the waiting time for hundreds of thousands of individuals in need of an organ transplant.
Though stem cell research may be a controversial topic, the intention to aid the lives of others continues to make tremendous technological strides. The nascent 3D printing is right in the middle of it. One day, we may even be able to bio-engineer ourselves from our home offices.
Related posts: