In an effort to gain momentum for DARPA's (Defense Advanced Research Projects Agency) Adaptive Vehicle Make (AVM) program, the Applied Research Lab at Pennsylvania State University has adopted aPriori's Product Cost Management software platform for their CIMP-3D (Center for Innovative Metal Processing by Direct Digital Deposition) facility.
The aPriori PCMP allows companies to gain automated, real-time manufacturing/materials costs and manpower impact for products ranging from development all the way through to production with what the company states is "a new level of precision over the inefficient methods employed today." The software platform can determine the precise cost of a product based on CAD models, the materials needed/used, as well as the actual factory where the production is to take place.
The end-goal of companies using aPriori is to reduce developmental, production, and material/labor costs, and the time it takes to get the end result to the market quickly and efficiently.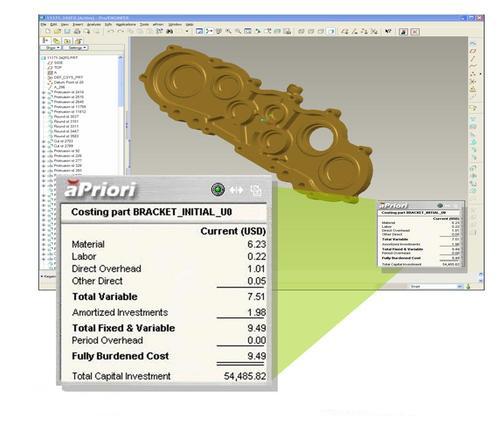 The Applied Research Lab is set to use the aPriori platform as a back-end solution to save time and production costs, as researchers develop advanced material systems for DARPA's Adaptive Vehicle Make initiative. The lab plans on implementing the "cost-management" software in conjunction with a new CIMP-3D fabrication facility in an effort to supply DARPA with DDM (Direct Digital Manufacturing) technology, which will facilitate the development of new advanced weapons systems and combat vehicles. According to a recent press release from PSU, the new facility will provide a central location for researchers of different engineering backgrounds to bring together all facets of DDM tech (analysis, simulation, manufacturing, and characterization), enabling the efficient development of on-demand new metallic materials, designs, and components for inclusion into DARPA's AVM project.
While we may never hear about the work and development being done for DARPA by Penn State's Applied Research Lab, the ability to reduce time, materials costs, and manufacturing optimization using the aPriori software platform will ensure that those projects will be completed at an efficient rate. All the greatest tools the world can offer in a nurturing development environment -- my expectations are high.
Related posts: