Who's game for free software?
Not surprisingly, PTC is betting a lot of engineers are. In what seems to be a quiet and behind-the-scenes move, PTC released something called Mathcad Express, a free, scaled-down version of its Mathcad Prime engineering calculation software.
Mathcad Prime 1.0, released in 2011, was rearchitected with a new, tasked-based user interface and live mathematical notation functionality, designed to let engineers focus on developing engineering calculations, rather than formatting design documents. Specifically, the remodeled user interface promotes the learning of unfamiliar engineering functions, while the document-centric calculation environment enables the design of detailed documents that include complex calculations and live, standard math notations.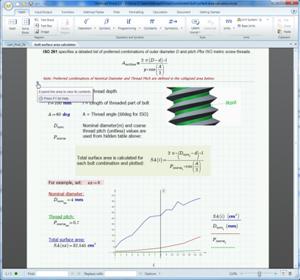 With the Mathcad Express version, you get the full version of Mathcad Prime 2.0 for the first 30 days. Once that time is up, you're left with an abbreviated, but still relatively useful, kit of basic engineering tools. The tools include the same math equation editing, basic numeric functions and operators, units, and X-Y plots as what's offered in the paid Mathcad Prime 2.0 release.
What you don't get are the advanced numeric functions, programming, symbolics, and advanced plot types, along with the Excel integration. For those extras, you have to buck up and pay for the full system.
There are benefits to leveraging the free version in the context of real-world engineering workflows. Since Mathcad Express lets users both create new Mathcad Prime documents and edit existing ones, the free tool could support markup and review capabilities without requiring team members to purchase full-blown licenses of Mathcad Prime.
For those who can get away with the stripped-down version, here's an interesting thing about Mathcad Express: After the 30-day trial, users can keep the scaled-down version for free for perpetuity. That means, if you like it, and the functionality fits, it's free for the rest of your engineering career.
Not bad for a time when engineering software can cost thousands, putting it out of reach for many folks whose companies won't bankroll any software that isn't absolutely part of the corporate design tool portfolio.
Related posts: