Though enterprise IT systems are on a direct path to virtualization and the cloud, engineering systems like CAD and PLM haven't hit a similar stride, given the lingering and very real concerns about how rich, graphics-intensive 3D tools would perform in this new environment.
Enter the GPU giant NVIDIA, which has a plan to bring workstation-level graphics capabilities to any screen, even mobile ones. The new cloud-based NVIDIA VGX K2 GPU, built on its previously announced Kepler architecture, fills in some of the pieces needed to achieve the promise of NVIDIA's VGX platform announced in May. That platform, deployed in the datacenter, helps IT departments create a virtualized desktop with all the graphics and GPU computing horsepower of traditional PCs or high-end workstations. Employees then can access this desktop in the field or at home from the connected device of their choice (yes, that means laptops, tablets, smartphones, or thin clients).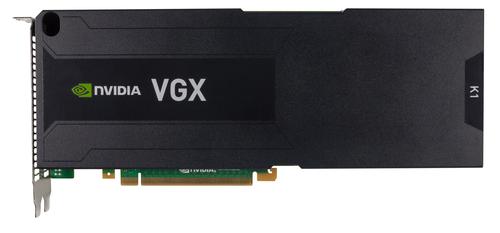 Before NVIDIA VGX, company officials say, common engineering tools like 3D CAD and simulation programs were deemed too graphics-intensive and too demanding to run efficiently and effectively on a virtualized desktop. Some experts likened NVIDIA's approach to that of Citrix, which is well known in IT circles for bringing CPU virtualization capabilities to the desktop, so people can use their device of choice. Similarly, NVIDIA said its VGX platform brings the power of the Kepler GPU to the same lineup of mobile devices.
The VGX K2 GPU, which will be delivered to server OEMs in early 2013, includes two workstation-class GPUs, each with 4GB of graphics memory -- a design choice meant to ensure that graphics-intensive design and content creation tools run with ease. The GPU package also contains patent-pending remote display technology to minimize the lag time in displaying high-resolution graphics that is typically associated with virtual desktop computing.
Jeff Brown, general manager of NVIDIA's professional solutions group, said in a press release:
The VGX platform has been developed to bring rich, interactive graphics to all enterprise virtual desktop users. With VGX K2 in the data center, designers and engineers who create the core intellectual property for their companies can now access their IP from any device and still enjoy workstation-class performance.
It remains to be seen what workstation and server OEMs will actually support the VGX and VGX K2 GPU platforms and what CAD and simulation vendors will optimize their programs to fully exploit these new architectures. Yet it's highly likely that the cloud-based GPU trend will gain traction over time.
Traditional IT departments are moving in droves to virtualize their environments to achieve efficiencies, reduce IT infrastructure costs, and develop a steppingstone to the cloud. It makes sense that engineering applications keep pace with the rest of the enterprise. With more and more engineers embracing smartphones and tablets in their personal and professional lives, why wouldn't they want a high-performance solution for running CAD and the rest of their go-to 3D design tool portfolio on their preferred devices?
Related posts: