For the last couple of years, in its annual press briefings, Siemens PLM Software President Chuck Grindstaff has been talking up the company's plan to make a series of targeted, strategic acquisitions as part of its long-term vision to build out its product line.
The company recently made a move on that front with the acquisition of Kineo CAM, a French-based provider of computer-aided motion software, which is already the foundation for functionality found in several of the components in Siemens's PLM portfolio. Kineo CAM, which has enjoyed traction in industries like automotive, aerospace, and shipbuilding, helps optimize robotic movements and path planning for the assembly and disassembly of parts. The company reportedly has 200 customers worldwide and, as a result of the deal, will find a home in Siemens's PLM software division, not as part of the broader automation and control group, company officials said.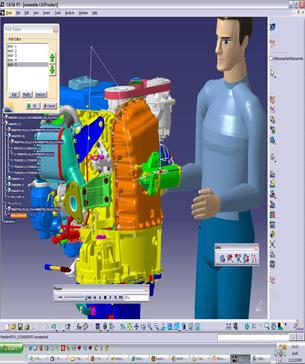 In explaining the positioning for the merger, Grindstaff said Kineo CAM adds another advanced technology to Siemens PLM Software's PLM portfolio, specifically one that can help customers make better decisions around manufacturing, maintenance, and repair strategies. He said the technologies -- which are already providing some under-the-covers horsepower to NX, Teamcenter, and Tecnomatix -- are used by companies in the automotive sector, for example, to plan out how to best install a particular component like a car seat or dashboard or how to disassemble the component or assembly at a later date for routine maintenance. In that vein, the technology seems like a likely candidate for enhancing the capabilities of the Tecnomatix digital manufacturing software.
In keeping with the parent company's focus on control systems, Kineo CAM's software modules can also be tapped to help optimize motion and path planning for robotics movements.
Besides being offered as standalone application software to manufacturing companies, Kineo has classically offered its libraries to CAD and CAM software vendors like Siemens PLM Software and to OEMs of advanced robotics systems. For example, Siemens PLM Software archrival Dassault Systemes integrates Kineo CAM with its 3DVIA Composer as a way to help manufacturers and engineering groups communicate the complex steps of interactive documentation with lifelike animations rather than leveraging standard photos and text.
For now, Siemens PLM Software seems content to continue with that strategy as the two companies said they will continue with all the current Kineo CAM product lines. That makes sense from a revenue standpoint and considering the fact that Siemens PLM Software does have a big presence providing open technology standards for the broader PLM community -- for example, its JT Open and Parasolid standards.
Related posts: