While users stand to benefit from more accessibility to 3D CAD tools, most aren't willing to dedicate their careers to learning to drive the systems -- an opening where SpaceClaim continues to see opportunity to carve out new turf.
With that premise in mind, the latest release of SpaceClaim Engineer, version 2012+, keys in on a number of new capabilities in the areas of manufacturing, simulation, concept development, and mesh remodeling, each designed to help engineers work more effectively in 3D modeling without the high cost and complexity associated with traditional CAD systems.
"There's a lot to know in documenting and doing really good design," Blake Courter, SpaceClaims' co-founder, said in an interview. Staying on top of drafting standards, being familiar with geometric tolerances, and excelling at surface modeling -- those are important yet difficult skills to master and well beyond the desire of most mainstream engineers.
"It's too byzantine for someone who's an expert on composite layup or turbulence combustion or who's responding to an RFQ," Courter said. "They are not putting use of CAD at the top of their resume, so we're trying to create a 3D tool that empowers them to make smart decisions without having to master all that."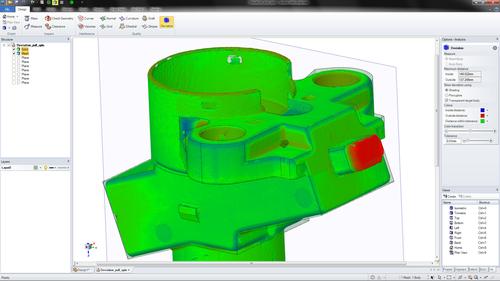 Unlike traditional CAD tools, which appeal to a specific type of 3D user and a very specific set of detailed design work, Courter said SpaceClaim is designed to deliver 3D modeling capabilities to all members of a product team from a single tool -- from manufacturing engineers specializing in CNC machining and tool and fixture design to sales engineers looking to showcase their products, to engineers and analysts seeking a fast and easy-to-use tool for model preparation for simulation and analysis.
According to a survey of SpaceClaim users, concept modeling, CAD translation, general-purpose CAD, manufacturing, and model prep for structural or thermal analysis are the top ways people are using SpaceClaim, Courter said, with customers reporting anywhere, on average, of 2X to 5X productivity gains in these areas, compared with traditional history-based CAD tools.
To keep the momentum going, SpaceClaim 2012+ adds numerous enhancements for manufacturing workflows, including connections to Mastercam and Esprit computer-aided manufacturing (CAM) software, new annotation types like weld symbols and semantic datums, machinist-friendly measuring and positioning, and advanced sheet metal capabilities like formed bends, among other new functions.
As part of the new release, there are also new tools for working with mesh and STL data, improvements that are important for simulation and 3D printing, including the ability to compare a mesh to a solid, as well as improved section curve fitting, plane and cylinder fitting, mesh splitting, and improved selection and color. On the core modeling front, the new release offers major performance improvements, as well as enhancements to the SpaceClaim API to encourage third-party partner support.
In that vein, Courter said the latest addition to SpaceClaim's OEM partner program was Gamma Technologies, which provides the GT-Suite simulation software for automotive applications, specifically optimizing power trains. SpaceClaim 2012+ will be bundled with new version of GT-Suite, Courter told us.
Related posts: