After a robust beta program and the launch of an API toolkit, Sunglass has officially launched its cloud-based collaboration platform. The startup, which we profiled in June, has incorporated some additional capabilities designed to help organizations manage design projects across CAD systems.
Drawing parallels between itself and GitHub, a Web-based version control system tuned for the collaborative development of software, Sunglass is looking to help dispersed engineering teams, particularly small and midsized shops, coordinate and manage development and design projects built around 3D CAD models. The idea is to replace traditional workflows that rely heavily on email and other manual forms of communication.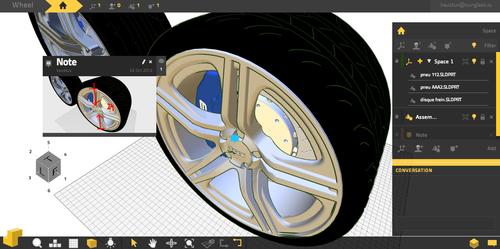 Though Sunglass is not a replacement for CAD, it does take on some of the work often handled by product data management (PDM) systems. Instead of PDM's traditional architecture, which relies on a single repository accessed by desktop workstations using checkin and checkout policies, Sunglass designed a secure, cloud-based platform, where engineers can tap into and collaborate on 3D designs from anywhere, including mobile devices.
Kaustuv DeBiswas, co-founder of Sunglass, told us it learned two things from its beta program. First, "communication is still a big pain point in the entire design cycle today, and the changing landscape demands better solutions that tightly integrate with all kinds of systems and mobile -- something that truly belongs to this generation." Second, no company is going to swap out CAD for a new design paradigm, so Sunglass needs to create a strong pipeline between current user workflows and the cloud.
With that in mind, Sunglass has added a couple of things in the final production release. The platform now includes deeply integrated plug-ins that let users edit and sync 3D files in real-time with full integrity between the desktop and the cloud. Plug-ins for SolidWorks, Autodesk Inventor, SketchUp with CATIA, and Rhino are first on tap, officials said. Users will be able to push and pull models from those CAD programs into Sunglass seamlessly as they make changes, and edits will be streamed in real-time while engineers carry on live discussions with clients and collaborators using the browser interface. The new functionality also lets users work on assemblies simultaneously and share projects on a part-by-part basis -- a feature that should help address concerns around the protection of design IP.
There are also back-end architecture enhancements to ensure Sunglass stays in sync with the workflows of enterprise-grade design tools most organizations already use. The architecture supports loss-less data (solids, breps, NURBs, tessellated), assembly-part mapping, and version history, so nothing is lost in translation between the CAD program and the cloud. This gives designers and engineers more robust capabilities for tracking changes, DeBiswas said.
Though he would not say whether Sunglass has won any large accounts, he did say there was a lot of interest in the beta program, which drew more than 1,000 participants.
Related posts: