Autodesk put more muscle behind its cloud computing story with the formal introduction of Autodesk Simulation 360, a set of online engineering analysis tools available with a pay-as-you-go pricing model.
Building on the Autodesk 360 cloud platform, the new software portfolio encompasses a wide range of mechanical, fluid flow, thermal, and plastic injection-molding tools.
We have reported on earlier steps in the Autodesk cloud evolution. In March, the company officially rolled out its Autodesk PLM 360, a set of PLM tools for quality management, new product introduction, cost management, and compliance management in the cloud. Also, Autodesk has showcased the cloud-based simulation capabilities on its Autodesk Labs site through Project Cumulus (for plastics simulation) and Project Centaur (for more traditional design optimization).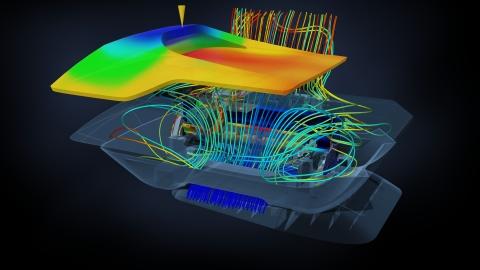 By leveraging the limitless computational power of the cloud and making the capabilities available from a button within the core Autodesk 3D design tool stack, the company is aiming to put complex engineering tests that were once limited to highly specialized simulation experts within the reach of mainstream engineers and CAD users.
"Throughout all the acquisitions we've made over the years" in the simulation field, "all we kept hearing about why people weren't adopting simulation is that the hardware was expensive, the software was expensive, and there were issues around ease of use," Scott Reese, Autodesk's vice president of simulation and design lifecycle simulation cloud platform, told us. "There has never been a model where the software is affordable for the masses or where you never have to worry about what hardware you have to handle complex models. With Simulation 360, you don't use much, you don't pay much."
With Simulation 360, the heavy computing happens in the cloud, freeing the user's workstation to do other design tasks. This eliminates the need for users to invest in expensive server farms to run their simulations, which they might need to only intermittently, Reese said.
Dmitriy Tseliakhovich, chief technology officer at Escape Dynamics, a company working to make space exploration cheaper, told us the new Simulation 360 tools help level the playing field and enable his small company to compete with government agencies and well-established aerospace and defense companies.
"Building rockets is hard," Tseliakhovich said. "Simulation lets us simulate thousands of geometries and reject 99 percent of them before we come up with just the right technology without spending money on physical prototyping. This opens doors and democratizes the space market for us."
Using the Autodesk Simulation suite in the cloud has two real benefits over traditional applications, according to Tseliakhovich. First, Escape Dynamics doesn't have to invest in expensive server farms to run the simulation software; in fact, it gets access to more processing cores and simulation than it could possibly afford on its own. Second, there are productivity advantages, since the team can offload multiple simulations in parallel to the cloud, instead of waiting for a simulation to finish on a dedicated workstation or server farm.
A version of Autodesk Simulation 360, including mechanical and CFD capabilities, is priced at $3,600 annually per user for 120 jobs or $7,200 annually per user for an unlimited number of jobs. The Ultimate edition offers mechanical, CFD, and moldflow capabilities for 120 jobs at a price of $10,000 per user annually. Those wishing to pay by the pound can purchase a 10-job Cloud Capacity Pack for $100.
Related posts: