It's that time of year again -- when many of the major CAD tools release their annual or bi-annual upgrades.
That was the case earlier this week with the latest release of SolidWorks by parent company Dassault Systemes. In much the same vein as last year's release, the new SolidWorks 2013 corals more than 200 customer-driven improvements into the release, which fall into the following, big-picture buckets: more powerful design tools, faster model creation, improved performance, and enhanced collaboration. These were pretty much the same categories as last year's SolidWorks release, with the exception that 2012's focus on new product development was swapped out for new design tool additions in the 2013 release.
Click on the image below to see seven examples of SolidWorks' updated capabilities.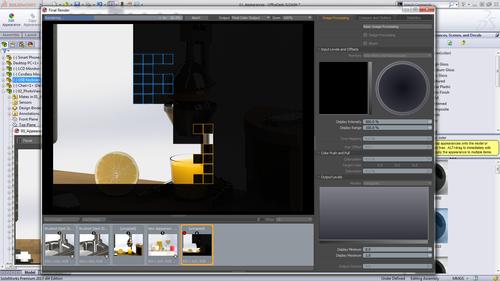 In that vein, the SolidWorks team added two major new modules. The first is SolidWorks Plastics, an analysis capability for analyzing what happens with custom parts before going through the expense of making prototypes or investing in tooling. The module, which has two flavors -- one geared at the part designer and the other at the mold designer -- is really all about helping designers make sure the custom plastic parts are optimal before building tooling, without having to create multiple physical prototypes along the way, Rich Allen, SolidWorks' director of product management, said in an interview.
"The pain point around plastics is that these models can cost a lot of money," he told us. "You create a mold right the first time and the process goes faster because you don't have to do as many prototypes, and you're saving a lot of time and money."
The second new module addition is SolidWorks Electrical, with both 2D and 3D capabilities, aimed at what Allen said is a huge part of the company's user base (60 percent was the number he cited) looking for electrical design capabilities as part of their go-to CAD offering. Given the trends around electromechanical products and more complete system design, having the ability to do both in one tool without having to rekey data, import data between siloed systems, or deal with Excel spreadsheet is a huge time saver, Allen said, and a top requested function among SolidWorks users.
Beyond the two additional modules, SolidWorks 2013 boasts several other highlight-able features. In the area of faster model creation, the update has conics capabilities as a more streamlined way of creating organic shapes. For a performance boost, 2013 features a network rendering capability for the PhotoView 360 rendering application that shares the computational load between multiple computers. New simulation sub-modeling and incremental meshing capabilities kick in for doing precise simulation analysis on specific areas of large and complex models.
Related posts: