Enriching support for the open-source Modelica multidomain modeling and simulation language and tighter integration into the standard design tool chain are the two primary attributes of Maplesoft's next release of its MapleSim physical modeling and simulation platform.
Like its predecessors, MapleSim 6 is built on the Maple mathematical environment. (See: MapleSim 5 Expands Model Development Use.) The latest release has been enhanced to support the Modelica language, making it easier for engineers to take control of their modeling and analysis requirements. Since Modelica is an open-source language, the improved support means MapleSim's physical modeling and simulation capabilities can be deployed in conjunction with a wider variety of tools throughout the development and design process -- a requirement that isn't always possible with more proprietary tool sets.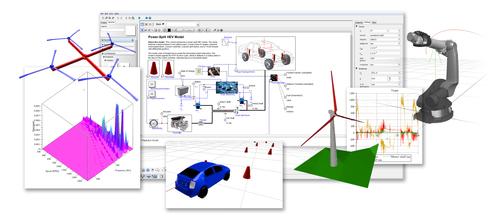 In fact, Derek Wright, product director at MapleSim, told us that the disjointed nature of today's design tool chain can make it harder for engineers to perform system-level simulations to see how everything works together. If you consider systems modeling and simulation the glue that lets you see how mechanical, electrical, and software systems will behave together before building physical prototypes, then it's necessary to have products that can function as an integrated tool chain, he said.
"What we've done with MapleSim 6, in particular, is to increase connectivity to the rest of the tool set so we can bring systems-level modeling to existing tools," he said. In most cases, an engineering team will have one set of tools for multibody virtual prototyping, a different plant modeling tool for control design, and perhaps another platform for hardware-in-the-loop testing. "The challenge of systems-level simulation is leveraging the complexity instead of being crippled by it. By adopting Modelica, an open-source language, to describe systems-level modeling, we can talk to other tools in the chain."
One new capability of MapleSim 6 is a view that instantly shows the corresponding Modelica code for any subsystem or component, enabling the engineer to examine code directly, determine what the model is doing, and correct or improve it. The update also includes the ability to open and use Modelica files inside MapleSim, the ability to save any MapleSim model as a Modelica file, and (through a new MapleSim Connector for FMI) the ability to export MapleSim models in a standard format established with the help of the Modelica Association.
Wright cited another key differentiator resulting from the combination of MapleSim's mathematical engine foundation and its support for the open, object-oriented Modelica language. That is the ability to deliver a so-called white box modeling platform, which lets engineers get deeper insight into their designs while enhancing extensibility.
Other new features of MapleSim 6 focus on speeding up the testing and experimentation process. Among the additions in this area are the ability to access external code directly from within simulations and a snapshot feature that accelerates experimentation by allowing experiments to be initiated from any time step and initial condition without having to rerun the model every time.
Related posts: